Brits 2013: The real winners and losers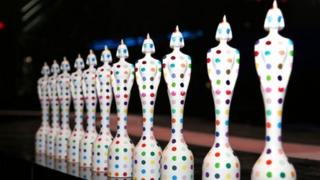 The Brit awards have honoured the biggest-sellers, the brightest stars and the best in music from the UK and beyond.
Emeli Sande and Ben Howard were the big winners, taking home two prizes each - but there is more to the Brits than the awards.
On a night of celebration, disappointment, costume changes and "challenging" hairdos, who were the real winners and losers at the Brit Awards?
Most humble acceptance speech
"I think I'm a very unlikely pop star," said Emeli Sande as she won the night's biggest prize - album of the year.
"This is an album I wrote because I didn't have the confidence to say these things in person. For me, that so many people have connected with this album and found strength in these words makes me feel incredible and it doesn't make me feel as lonely."
Backstage, she added that her decision to leave medical school to pursue music had finally "paid off".
"I was an underdog," she said, "Nobody wanted to sign me."
"When people don't believe in you, you want to prove them wrong. I want to encourage any underdog to achieve their dreams."
As Radio 1 DJ Huw Stephens noted, "you're the most successful underdog here tonight".
Biggest Twitter outrage
The success of low-key songsmith Ben Howard sparked a frenzy of fury from Twitter's notoriously easy-going contributors.
"WHO IS BEN HOWARD" they demanded, their fingers angrily jabbing at the caps lock key. "WHY IS HE WINNING ALL THESE AWARDS?"
"I hate Ben Howard because he took the award when it belonged to Olly Murs," stated Kira Evans.
"Seriously who is Ben Howard?" pleaded Daniel Griffin. "I've only just got to grips with who Ed Sheeran is."
Michelle Robek wondered: "Is he related to Frankie?"
Most considerate uncle
A newly-slimline Boy George walked down the red carpet with a mysterious female guest on his arm.
It later transpired she was his niece, Molly. He'd given her his spare ticket so she could meet her idols, One Direction.
"She wants to meet One Direction, like every other teenager in the country," he told the BBC. "The difference is, she will get to meet them."
The former Culture Club star assured the BBC the teenager would not be exposed to any of the "debauchery" that accompanied Brit award shows in the 1980s.
"These days, people are a bit more grown up," he said. "I like it that way."
The Gerald Ratner Award for putting your foot in it
"Make some noise for Coldplay!" shouted Olympic gymnast and Strictly winner Louis Smith as he handed Chris Martin's band the award for best live act.
Backstage, though, he seemed a little less enthusiastic.
"To be honest, I'm not a massive fan," he told the press. "I prefer reggae."
Biggest mistake
A double award-winner at last year's Brits, Ed Sheeran suddenly went white with fear at this year's show.
"I've lost my phone," he said, panic building as he patted down the pockets on his suit.
"It's not locked. It has the whole of my new record on it. And it has quite a few phone numbers that shouldn't be released.
"That's not good, is it?"
Best use of metaphor
R&B singer Frank Ocean was a popular winner of the best international male prize, having picked up two Grammys 10 days ago.
Backstage, he was asked how it felt to be recognised. "It feels like skydiving," he beamed.
And what does it feel like when they open the envelope, just before the name of the winner is announced?
"Keeping with the skydiving thing, it's like when you're at the door about to jump".
Let's hope he packed a parachute.
Least mobile pop star
The red carpet was freezing, but that didn't stop the population of planet pop from wearing skimpy, revealing outfits. Poor Little Mix looked like they might turn into Little Mixicles about five minutes after they arrived.
Rita Ora was relatively well covered-up in a dress by Russian designer Ulyana Sergeenko, but the long train made it impossible for the singer to move around without an assistant.
Still, she was happy just to be noticed. "I was here last year and I walked down the red carpet straight past all the journalists," she laughed.
"Nobody wanted to talk to me."
The "what are they on about" award
The video inserts introducing each of the best album nominees were an abject lesson in why pop stars should never be asked to describe their "creative process".
"This album is... almost an acceptance of myself emotionally," whispered Paloma Faith.
"That's why I do any kind of artistic expression, is to try and evoke something out of another human being," pontificated Plan B.
"Every journey ends. But we go on," said Alt-J. Or was that Brad Pitt in his perfume advert?
Biggest hug
A lingering hug from Carey Mulligan stopped Marcus Mumford from rushing to the stage to accept the best British group award.
The couple were married in April last year, but have had to spend a lot of time apart since. Mulligan has been filming a new adaptation of The Great Gatsby, while Mumford And Sons have been busy touring their new album, Babel.
Best explanation of British success abroad
Adele led the way, but Mumford and Sons, Calvin Harris and even Ellie Goulding have followed in her footsteps. British acts are massively successful overseas, at a time when the US seems to be struggling to produce a new mainstream pop star.
On the night, One Direction won the inaugural prize for global success, but seemed at a loss to explain how they'd achieved it.
"We're very honoured to be part of that and people recognise British music is great," said Harry Styles.
In the end, it was left to Olly Murs to explain why the US is suddenly in love with our musicians.
"There used to be this barrier between the States and the UK - a border you couldn't cross," he told the BBC. "Now, young kids in America have Twitter and YouTube. They can see the iTunes chart in the UK, and they can look up who's number one.
"If they hear about One Direction, or Rita Ora, or Olly Murs, they can type it into Google and find out who we are instantly. They can find the songs, the videos, anything.
"The crossover is huge. If you look at their chart compared to our charts, they're pretty similar. That didn't happen before."
Most pretentious acceptance speech
Good old Lana Del Rey. The recipient of best international female started off well, with a traditional "thank you" and a line about how much she loves her UK fans. Then she thanked her record label for "helping me turn my life into a work of art".
Sadly, she failed to elucidate on what that work of art might be. We're hoping it was a clay pot, or one of those magic eye paintings.
Best costume change
Let's be honest. It wasn't a night of high fashion. Ben Howard could only manage a baggy grey t-shirt, Robbie Williams's suit was so aggressively blue it needed an Asbo, and Justin Timberlake had apparently made a dinner jacket out of liquorice.
But US pop singer Taylor Swift managed not one, but two, eye-popping costumes in the space of four minutes.
Her floor-length wedding dress has already set tabloid tongues wagging - they reckon it was a dig at ex-boyfriend Harry Styles, who was watching in the audience.
Then, halfway through her performance of hit single I Knew You Were Trouble, she ripped it off to reveal a racy black bodice. What it had to do with the song is anyone's guess, but it made great television.
Least present winner
"Hello everyone," beamed Adele, sitting in front of a tasteful brown curtain, somewhere in Hollywood. "Sorry I can't be with you tonight, I'm in LA rehearsing for the Oscars."
But at least she bothered to film an acceptance speech. Rock duo The Black Keys did no such thing, leaving Dave Grohl to shuffle off stage with their award.
Most graceful loser
Hip-hop star Plan B was a critical favourite for the gritty social realism of his album, Ill Manors.
Angry, political and inspired by the riots of 2011, the record is a furious polemic against what he sees as the government's abandonment of the underclasses.
Given his spittle-flecked raps, you'd think he'd be furious when Emeli Sande beat him to the best album prize. But no, he had a grin wider than the sun.