War and Peace: Tolstoy novel to be adapted for BBC One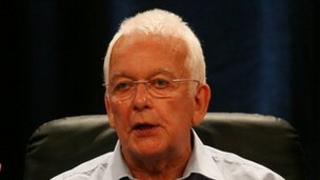 BBC Wales is to remake Leo Tolstoy's War and Peace, 40 years after the BBC's last adaptation of the epic love story.
Regarded as one of the most important works of world literature, the new six-part series - due on BBC One in 2015 - will be written by Pride and Prejudice screenwriter Andrew Davies.
"Not just a great novel, it's a wonderful read and it'll make a wonderful serial," said Davies.
The BBC's 1972 series starred Anthony Hopkins as Pierre Bezukhov.
First published in 1869, War and Peace ran to more than 1,200 pages and told the story of aristocratic families affected by the French invasion of Russia in the early 19th Century.
'Sweeping story'
It is considered one of Tolstoy's finest literary works, along with Anna Karenina, which was published between 1873 and 1877.
Award-winning screenwriter Davies, whose other TV adaptations include Sense and Sensibility, called it a "thrilling, funny and heartbreaking story of love, war and family life".
"The characters are so natural and human and easy to identify with and Natasha Rostova just beats Lizzy Bennet as the most lovable heroine in literature," he added.
The new series will be made by BBC Wales.
Faith Penhale, head of drama at BBC Wales, said it was "thrilling" to be able to bring War And Peace to BBC One.
"Today's audience will be drawn into the sweeping story of life and love during a time of conflict, with a dazzling production that brings to life the great vision and scale of the novel," she said.