Die Hard sequel leaves critics cold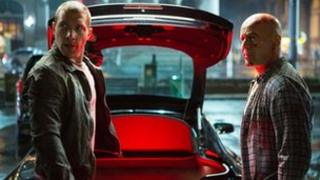 The latest instalment in Bruce Willis's Die Hard action franchise has received a largely frosty response from critics.
"Last is least," bemoaned the Hollywood Reporter, while The Scotsman called it a "limp parody" of the 1988 original.
"The sense of exhilaration and fun that marked the best of the series has gone unaccountably AWOL," opined Kenneth Turan in the Los Angeles Times.
A Good Day to Die Hard, the plot of which sees Willis's John McClane travel to Russia, is out now in the US and UK.
Reviews were not published until the day of release at the request of 20th Century Fox, the film's distributor.
Willis has reprised his signature character, a wise-cracking New York cop with a talent for foiling complex criminal schemes, on four occasions since his introduction in the original Die Hard movie.
His latest outing, directed by Ireland's John Moore, sees him join forces with his adult son Jack (Jai Courtney) to protect a Russian whistleblower with links to a nuclear conspiracy.
According to USA Today's Claudia Puig, the "obnoxious, over the top and often dull" result constitutes "a feeble attempt to rehash action-hero glories".
"Opening this bullet-riddled snoozefest on Valentine's Day [14 February] seems particularly wrong-headed," the reviewer continued.
"A trip outside the US does the franchise few favours," wrote Empire's Kim Newman, saying the film's "few reasonable action sequences are mired in family soap".
Yet the film did get a kinder reception from the Daily Telegraph's Robbie Collin, who singled out "a roaringly silly car chase which lasts around 15 minutes" for qualified praise.
"The special effects sequences are put together with some ingenuity," agreed The New York Times' A O Scott.
"But everything that made the first Die Hard memorable - the nuances of character, the political subtext, the cowboy wit - has been dumbed down or scrubbed away entirely."
Speaking to the BBC News website last week, Australian actor Courtney said he and Willis had "had a lot of fun working together" and had "a good dynamic".
However, the 26-year-old played down rumours he was being lined up to take on the franchise or play the lead role in future instalments.
"If I was given the opportunity to reprise the role and play it again I would relish in that, it would be awesome," he said.
"There's definitely a future for the franchise, it being as successful and iconic as it has been. But we'll have to wait and see if Jack features again."
While promoting the film in London last week, Willis confirmed he would be back for a sixth instalment but would not be drawn on plot details.
"I heard there is a group of bad guys that hang out in the Seychelles," he joked to reporters. "So we should go there and just get a tan."