Prince Charles to edit Countryfile episode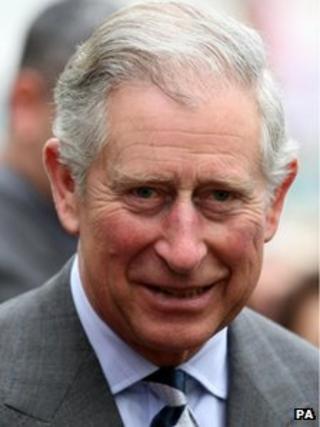 The Prince of Wales is to guest edit a special edition of Countryfile to mark the BBC One show's 25th anniversary.
The episode was filmed at the prince's organic farm in Gloucestershire and follows him as he visits projects he set up to help rural workers.
Prince Charles was keen to get involved with the programme, which also sees him attend an inner-city school where pupils grow their own vegetables.
The edition will air on BBC One and BBC One HD in March.
Bill Lyons, Countryfile's executive editor, said: "It's our 25th anniversary - we were looking for a special way to mark that and [the prince] was very much up for that.
"We'd heard a rumour that Countryfile might have some viewers in very high places and as it turned out, Prince Charles was very warm to the idea of joining us."
Filming for the show began at Highgrove during the September harvest and has continued throughout an exceptionally cold winter.
"It's the bleakest time of the farming year," Lyons said. "That says a lot about Prince Charles's commitment to rural affairs, seeing the countryside at a time when it goes to sleep for the winter - a time for reflection."
The programme sees the prince visit farmers including Paul and Jennifer Johnson, who raise sheep on the fells of Upper Teesdale in County Durham -1500ft (457m) above sea-level and one of the harshest landscapes in the country.
Prince Charles also drops in at a school in south London which has seen its commitment to reconnect pupils with the soil coincide with improved exam results.
While last weekend he was filmed at the hedge-laying competition he holds at Highgrove every year for people from all over the country who share his passion for hedges.
"He's not at all afraid to get his hands dirty and show the way he cuts back and replants," Lyons said. "It was all we could do to persuade him to stop!"
The prince, who was interviewed by Countryfile's regular hosts Julia Bradbury and Matt Baker, is a big fan of the show, telling last month's Oxford Farming Conference: "Is it not quite revealing that the BBC's Countryfile programme has become so tremendously popular?
"Ever since they moved it to its prime-time slot on a Sunday night, it has become one of their most successful television programmes, with over seven million viewers a week. There is evidently a thirst for the countryside and for the culture it represents."
Lyons, who hinted that the programme could use other guest editors further down the line, said the show would have Prince Charles's stamp on it, adding: "It was very helpful to have his views because he has such a singular vision in every way,
"He has a strong sense of the history of the countryside and, as the heir to the throne, he has absolute interest in its future."