Sir Paul McCartney surprised at 17th Grammy win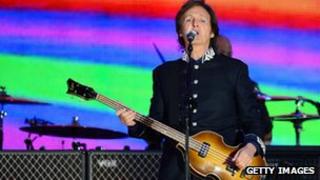 Sir Paul McCartney said he was "surprised" to win his 17th Grammy Award for his album Kisses on the Bottom, which was released last year.
"It came as a big shock to me to know there were 17 to tell you the truth," he told BBC 6 Music.
"I don't keep count, I suppose that's somewhat flash - people know my figures better than I do."
The best traditional pop vocal album Grammy was his first for a record of new material since his Beatles days.
He might have lost count of how many Grammys he has on the mantle-piece, but Sir Paul said receiving praise from the American awards is always flattering.
"I don't think a lot of the best musicians in the world got Grammys, it only goes to select few, and so to be one of those for the 17th time is phenomenal," he said.
Grammy success theory
Sir Paul did not attend the awards ceremony in Los Angeles on Sunday but watched it on television.
The musician said the moment he and his wife received news of the win via a text message from his manager was "particularly exciting".
"We were watching it on telly, it was like 'Oh yeah!'. You can imagine the room went wild," he said.
The singer also shared his theory for Grammy success - not to attend the awards.
"The only way to win one is to not go," he laughed. "The minute you go and you're sitting in the audience it'll be 'And the winner is... John Mayer', and you do that face, and you smile and clap and go 'how good humoured am I?'.
Last year, Nirvana members Dave Grohl and Krist Novoselic joined forces with Sir Paul for some casual recording sessions.
They created the rock behemoth Cut Me Some Slack, which features on the soundtrack to Grohl's Sound City documentary, Sound City: Real to Reel.
It resulted in them playing on stage together in December, joined by guitarist Pat Smear, to perform the track live at a New York charity concert in Madison Square Garden, in aid of victims of Hurricane Sandy.
"One thing I love about what I do is that so much of it happens organically," Sir Paul said about working on the project with his "friend" Grohl, who he described as "likeable", "enthusiastic" and "on the ball".
Upon deciding to make up a new song rather than do a cover, Sir Paul said he turned up to the recording session with a "crazy guitar" actor Johnny Depp had given him.
"It's a cigar box guitar, but it sounds like the hottest piece of kit on earth... it just takes over, it's amazing, it's like it's alive," he said.
"I was so excited by it, I took it over and I think Dave was a bit surprised. I think he thought I might play bass."
After jamming, they gave the song some more structure, recorded it again and formed Cut Me Some Slack.
"The organic aspect of just showing up for a jam and then we made this track - it's something a major label should have spent six months planning, but it just came out of the blue and I love that," he said.
New album
A collection of musicians including Mick Hucknall, Joss Stone and Beverley Knight, were at Abbey Road Studios on Monday to recreate The Beatles' debut album Please, Please Me, to mark its 50th anniversary.
"When we started we really were just four kids from Liverpool hoping to get a bit of money to buy a car, that's all there was to it," Sir Paul said.
"It wasn't this great artistic voyage, but it happened and it was phenomenal."
A follow-up album to Kisses on the Bottom is currently being recorded at Air Studios in London.
Sir Paul said he was working with a stellar line-up including Mark Ronson, Ethan Johns, Sir George Martin's son Giles and acclaimed producer Paul Epworth.
"They're cool people whose work I liked and of course, what's happened is I like them all," he said.
He added he aimed for the "modern songs" to form a new LP which will be finished within the next few months.