Martine McCutcheon declared bankrupt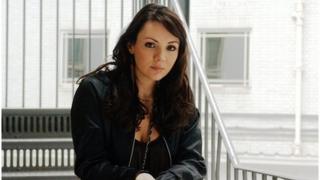 Actress and singer Martine McCutcheon has been declared bankrupt after filing for insolvency at a London court.
McCutcheon, best known for playing Tiffany Mitchell in EastEnders, petitioned in her given name - Martine Kimberley Sherri Ponting.
Bankruptcy trustees KPMG said the star's "largest creditor" was Her Majesty's Revenue and Customs.
The 36-year-old, who lives in Esher, Surrey, will be discharged from bankruptcy on 2 January 2014.
After EastEnders, McCutcheon launched a briefly successful career as a singer, scoring a number one in five countries with the song Perfect Moment in 1999.
She later won a Laurence Olivier Award for best actress in a musical for her performance as Eliza Doolittle in My Fair Lady in 2002.
In 2003, she appeared alongside Hugh Grant in Love, Actually, playing Grant's tea lady and love interest, Natalie.
Best-selling novel
The actress also published her first novel in 2009, The Mistress, which featured on the bestsellers list.
Recent television work has included roles in Midsomer Murders and Spooks.
KPMG's David Standish, who was appointed joint trustee in bankruptcy of McCutcheon by the Secretary of State on 24 January 2013 said: "Ms McCutcheon petitioned for her own bankruptcy at Kingston-Upon-Thames County Court.
"We are now responsible for administering her estate and are in the process of establishing the individual's assets and liabilities; the largest creditor being Her Majesty's Revenue and Customs."
McCutcheon's management declined to comment on their client.
Ed Thomas, insolvency practitioner at accountancy firm Mazars told Credit Today it was the celebrity's responsibility to ensure their financial affairs are up-to-date.
"Without knowing the background to this matter, one should not point the finger, but generally we are seeing several celebrities failing in their obligation to ensure that their financial affairs are dealt with properly.
"There is no doubt that they pay a lot of money to people who claim to be managing their affairs professionally."
He added that HMRC will give several warnings and opportunities to settle any liabilities before taking action.
"Therefore, any abrogation by the celebrity of their responsibility to deal with income tax and other debt issues, is no real defence," he said.