Morrissey cancels more US shows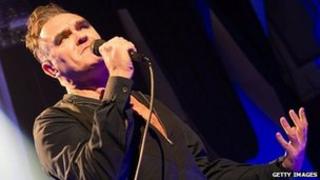 Singer Morrissey has been forced to cancel more shows in the US to have further treatment for a bleeding ulcer.
The 53-year-old had been expected to perform on Wednesday but ongoing medical problems mean he is unable to return until later in the month.
The former Smiths frontman postponed six US concerts after checking into hospital in Detroit at the end of January.
He had previously cancelled three shows due to "band illness".
An announcement about the recently cancelled shows said he was undergoing treatment for a bleeding ulcer and Barrett's oesophagus (a condition marked by unusual cell growth) and needed to rest.
Morrissey, who led revered Manchester indie band The Smiths in the 1980s, is expected to resume performing on 21 February in Denver, Colorado.