Almeida Theatre appoints new artistic director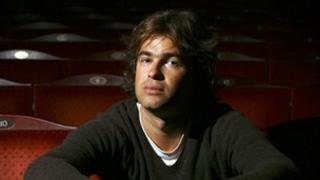 Rupert Goold, of the acclaimed theatre company Headlong, is to follow Michael Attenborough as artistic director of London's Almeida Theatre.
Goold - named best director at the 2010 Oliviers for Enron, Lucy Prebble's play about one of the biggest financial scandals in history - said he was "thrilled" at his new appointment.
The London-born Goold has been artistic director of Headlong since 2005.
He will leave the company in August to take up his new role.
Attenborough said he was also "truly thrilled" to hand over the reins to Goold, describing him as "a bold and brilliant director".
His successor, he continued, is "someone who takes equal delight in the promotion of other artists and the same ambitious, progressive programming for which the Almeida has always been known".
"I can pay Rupert no higher compliment than point to the fact that we are co-producing two shows with his company Headlong during my final season up to the end of 2013," added Attenborough.
The first of these will be Chimerica, a new play by Lucy Kirkwood that will have its premiere at the Almeida in May.
That will be followed by American Psycho, a musical version of the novel by Bret Easton Ellis that will have its world premiere in December.
"I look forward to welcoming the best artists from here and abroad to make work in this magical theatre and building on its international reputation for theatre of risk and vision," Goold said.
The former artistic director of Northampton Theatres and associate director at the Royal Shakespeare Company is currently working on his first feature film, True Story, starring James Franco and Jonah Hill.
Attenborough, who has been in charge at the Almeida for 11 years, is stepping down to concentrate on directing.
Notable shows during his tenure include David Eldridge's 2004 adaptation of Danish film Festen and the 2011 staging of Edward Albee's A Delicate Balance.