Your Paintings: artworks to be projected on UK landmarks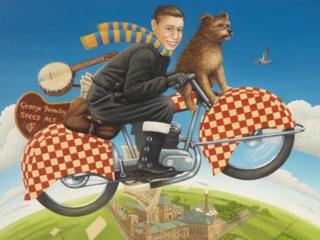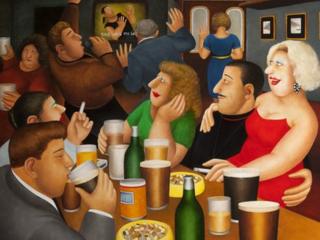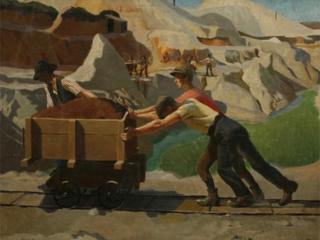 Buildings around the UK are to have art projected upon them later to celebrate the completion of a website showing the national collection of oil paintings.
Exeter Cathedral, Lincoln Castle and Glasgow's Royal Concert Hall are among the 28 locations where images can be enjoyed from 16:30-22:00 GMT on Friday.
Each location will show four paintings of national interest, as well as three paintings specific to its region.
A full list of venues is available on the Your Paintings website.
Vincent Van Gogh's Sunflowers, held by the National Gallery in London, will be one of the four paintings that will be projected at every location.
So will three lesser-known works depicting life in the UK: Frances Broomfield's George Formby - Speed Ace, an affectionate portrait of the chirpy British comic; Beryl Cook's colourful 1992 piece Karaoke; and The Clay Pits by Cornish painter Harold C Harvey.
Works by L S Lowry, Edwin Henry Landseer, Ronald George Lampitt and Rita Duffy will be shown in England, Scotland, Wales and Northern Ireland respectively, alongside pieces by other artists indigenous to each country.
The projections mark the start of a month of exhibitions and events organised by the BBC and the Public Catalogue Foundation, who have created Your Paintings in conjunction with participating collections and museums from across the UK.
"No other country has ever embarked on such a project to make accessible online its entire collection of oil paintings," said Andrew Ellis from the Public Catalogue Foundation.
"The result is an extraordinary, rich and varied virtual gallery of paintings with styles and subject matters to suit all tastes and interests."
More than 37,000 artists are represented on the website, with works ranging from Old Masters to works by leading contemporary painters.
The vast majority of the collection has never been photographed before, while around 30,000 paintings do not have firm artist attributions.
The National Trust owns the largest single collection featured on the website, its holdings accounting for 12,567 entries.
Members of the public are invited to "tag" paintings in their local collections on the website, to help future users find paintings by subjects, themes and events of common interest.