Justin Bieber makes US chart history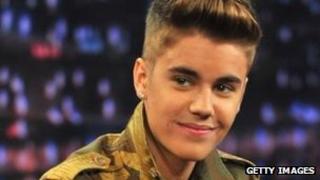 Pop star Justin Bieber has become the youngest artist ever to have five chart-topping albums in the US.
The 18-year-old singer's latest album, Believe Acoustic, topped the Billboard 200 earlier this week, selling 211,000 copies in its first week.
He is one of only nine artists in Billboard history to have a number one album across four consecutive years.
The Canadian star, who turns 19 in March, also topped iTunes charts in 63 countries with his new album.
The record features stripped down versions of songs from his fourth album, Believe - released in June 2012, as well as three new songs.
Bieber tweeted: "WE did it! #HISTORY - thank u.,,, First time ever!"
"Let's keep it going," he continued. "We got more history to make!
"Hope u [sic] are enjoying the albums and the music. That is what it is all about... MUSIC"
The singer, who failed to pick up a Grammy nomination ahead of Sunday night's award ceremony, is currently in rehearsals for US comedy show Saturday Night Live, which he is hosting this weekend.
Bieber released his debut, My World, in November 2009 and rapidly gained a cult following, particularly amongst teenage girls.
In 2012 he was named as the third-most powerful celebrity in the world by Forbes magazine.