Buffy the Vampire Slayer actor Robin Sachs dies aged 61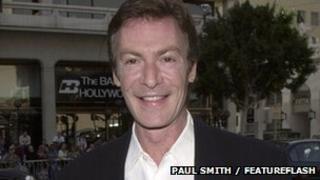 British actor Robin Sachs, best known for his role in the hit TV series Buffy The Vampire Slayer, has died at the age of 61.
His villainous character Ethan Rayne was the arch enemy of regular character Giles, played by Anthony Head.
The London-born actor also played the evil General Sarris opposite Tim Allen in Galaxy Quest.
His ex-wife Casey Defranco called him "a wonderful person, extraordinarily talented as an actor."
Staff on his official website wrote: "Please join us in raising a glass to Robin - goodbye, dear friend. Thank you for all the laughter and the cookies. We will miss you so very much."
Sachs' first role was with the British Hammer film studio, in the movie Vampire Circus.
He went on to play Adam Carrington in the 1991 miniseries Dynasty: The Reunion when the original actor Gordon Thomson was unavailable.
Sachs worked on several sci-fi shows, with appearances in Babylon 5, Star Trek: Voyager and Torchwood: Miracle Day.
His stage work included touring productions of Hamlet and Twelfth Night.
In 1999, he appeared heavily disguised under layers of heavy make-up as the baddie Sarris in the satirical comedy Galaxy Quest, which co-starred Sigourney Weaver and Alan Rickman.
Later in his career, Sachs provided voices for several video games including Mass Effect 2 and 3 and Resident Evil Damnation.