Harold Pinter's Old Times praised by critics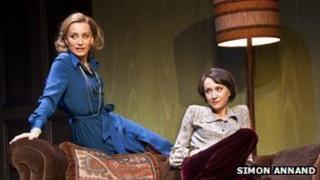 Critics have praised the new production of Harold Pinter's Old Times, starring Rufus Sewell and Kristin Scott Thomas.
Ian Rickson's "compelling revival" of the 1971 play sees Scott Thomas and Lia Williams alternating the female roles at London's Harold Pinter Theatre.
"Time and again, Rickson's production illuminates the play," wrote Michael Billington in The Guardian.
While The Telegraph's Charles Spencer was impressed by the "haunting stage poetry of memory and desire".
Old Times - the first Pinter play to be staged at the former Comedy Theatre since it was renamed in the playwright's honour - sees Sewell's Deeley and his wife Kate visited by her old flatmate, Anna, whom Deeley has never met.
A power struggle ensues between husband and friend as they fight for the affections of the withdrawn Kate, using the power of memory in an attempt to get old fires burning.
The biggest talking point for the critics concerned the role reversals of Scott Thomas and Williams, who play Kate and Anna on alternate nights.
"What is interesting is comparing the two versions and leaving the theatre feeling you have experienced a separate play each time," wrote Julie Carpenter in the Daily Express.
The Independent's Paul Taylor said it illustrated "how the shift in casting-chemistry can put a different complexion on what is broadly the same interpretation of the piece and intriguingly alter the dynamic of Pinter's play".
It was an observation shared by Billington, who wrote: "The chemistry changes, according to who plays what."
The Guardian critic suggested that while Scott Thomas's "cool, classy" Anna and Williams's "tough-as-nails, quietly acerbic" Kate was "the more obviously dramatic combination", he found the reverse pairing "even more hypnotic".
Conversely, Spencer was "often bored" by the latter combination, finding the play "a touch mechanical", but when the roles were reversed, he found the "haunting stage poetry of memory and desire suddenly worked its spell".
"Lia Williams plays the wife not with the usual passivity, but with the neurotic intensity of a clinically depressed woman staring into a void as she realises that her relationships with both her husband and her old friend are dead to her," he wrote.
The critics were almost universal in their praise for director Rickson, with Carpenter labelling it a "compelling revival" in the Express and most newspapers giving the play four stars.
But Quentin Letts, writing in The Daily Mail under the headline "There's no fun at all in Pinterland" suggested Old Times was "90 minutes of bafflement".
He added: "The producers are hoping that some theatregoers will go twice to catch the two actresses in each role. It sounds an impressive sales wheeze, but once was quite enough for me."