National Theatre 50th anniversary to be marked by BBC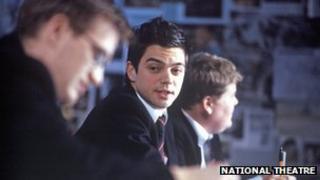 The 50th anniversary of the National Theatre's first ever performance is to be marked with several BBC programmes.
Two hour-long Arena specials will have interviews with a range of National Theatre alumni including Alan Bennett, Dame Judi Dench and Sir Derek Jacobi.
Sir Nicholas Hytner, director of the National, said the programmes "will tell the story of those 50 years through a montage of highlights".
The NT was based at the Old Vic until 1976, when it moved to the South Bank.
Sir Nicholas would not reveal which actors would take part in a live celebration, which he will direct and which will be screened on BBC Two.
"I hope it would involve as many as possible of the great performers of the last 50 years who are still with us," he told reporters on Wednesday.
A string of shows have also been announced for a new temporary venue, The Shed, which has been financed by profits of the New York run of hit show War Horse.
Other projects announced include the National return of Skyfall director Sam Mendes, who began his career in theatre before moving into film.
The Oscar-winning director will direct a production of Shakespeare's King Lear, starring Simon Russell Beale, that will open next January.
The 2013 season will see The Light Princess, a musical adaptation of a 19th-Century fairy-tale with music and lyrics by pop singer Tori Amos, open in October.
The BBC has also announced a partnership with English Heritage to celebrate the history of the heritage movement.
In the spring a three-part series, Heritage! The Battle For Britain's Past, will look at how heritage became a mass popular movement.