Doctor Who drama casts David Bradley as William Hartnell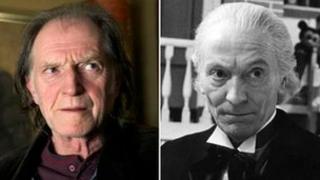 Harry Potter actor David Bradley will play "first Doctor" William Hartnell in a BBC drama about Doctor Who's creation to mark its 50th anniversary.
An Adventure in Space and Time will tell the story of the genesis of the BBC sci-fi drama in the early 1960s.
Bradley, known to millions for his role as Filch in the Potter series, said he was "absolutely thrilled" to be cast.
Call the Midwife actress Jessica Raine and Scotland's Brian Cox will also appear in the BBC Two commission.
Cox will play Sydney Newman, the BBC head of drama credited with the creation of the show, while Raine will play the producer Verity Lambert.
Filming will begin in February at BBC Television Centre, then move to Wimbledon Studios in south-west London.
The script has been written by Mark Gatiss, a regular Doctor Who writer who, like Bradley, has been seen in the show since its 2005 revival.
Gatiss will act as executive producer of the one-off 90-minute drama, alongside Steven Moffat and Caroline Skinner.
'Cultural phenomenon'
"I first heard about this role from Mark while watching the Diamond Jubilee flotilla from the roof of the National Theatre," said Bradley, who played the character of Solomon in 2012 episode Dinosaurs on a Spaceship.
"When he asked if I would interested, I almost bit his hand off! Mark has written such a wonderful script not only about the birth of a cultural phenomenon, but a moment in television's history.
"William Hartnell was one of the finest character actors of our time and as a fan I want to make sure that I do him justice. I'm so looking forward to getting started."
Doctor Who was first broadcast on 23 November 1963 with a four-part adventure known as An Unearthly Child.
Sacha Dhawan, seen recently in Last Tango In Halifax, will play Waris Hussein, director of those initial episodes.
An Adventure in Space and Time is one of a number of programmes that will mark Doctor Who's half-centenary later this year.
Hartnell, who died in 1975, was better known for playing 'hard man' roles prior to being cast as the Doctor, a role he filled from 1963 to 1966.