Sending up Hollywood British-style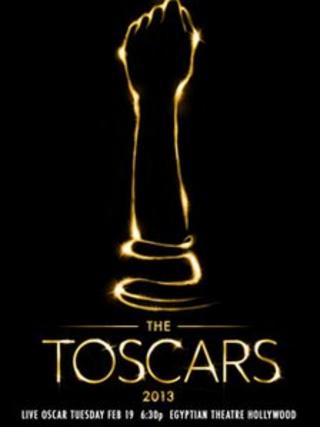 The Toscars, which annually honours parodies of Oscar-nominated films, provides light-hearted relief for Hollywood's hopefuls during awards season.
The event was started "about five years ago" by British actor Craig Robert Young and a group of fellow British expats living in Los Angeles.
"We went to see Be Kind Rewind - with Jack Black - and in the film they make all these re-makes of films like Ghostbusters because Black wipes all the videos in this shop where he's working, so he has to go out and retrieve them," Young explains.
"We thought that would be a really funny idea to go out and do that for all the Oscar-nominated best picture films."
Like lots of good ideas, the Toscars had small beginnings - Young and a group of friends made a few parodies, held a mini screening and the winners were determined by which film got the loudest cheer.
Two years ago, the organisers took the ceremony into theatres and the event began to attract more interest.
People sign up to take part and on the day nominations are announced, names are drawn out of a hat and people are split into teams of 13 - the team leader then picks an envelope containing a poster of which film they will be parodying.
The teams have to make their five-minute films over a period of three days at the beginning of February on a budget of just $250 (£158) - quite a tall order.
"It's crazy - our motto is a beg, borrow and steal approach," explains Young.
"It forces people to be creative. If you put a cap on it (the budget), they've got to think outside the box.
"Someone's looking for a tricycle right now for their parody of Lincoln and I'm like 'Make one!' - obviously it's going to be a hard thing to find," he says.
Last year, celebrity judges came on board, including head writer for the Oscars, Bruce Vilanch, who is returning for this year's Toscars.
"We've had some interesting people take part (in the films), too," says Young.
"Luke Evans, who has starred in films like Clash of The Titans and The Immortals, he's a big Hollywood actor now but he got his start doing the Toscars."
And this year, there's a first for the event - actress Tehmina Sunny, who appears as an airline ticketing agent in Argo, is also going to star in the Toscars spoof.
There's also a new judge in town - Oscar-nominated actor Eric Roberts (also known as the brother of Julia).
He says he had no hesitation in signing up because it would be "fun".
Roberts received his Academy Award nomination for Runaway Train in 1985.
"It's so much fun (to be nominated) and it really puts everything in perspective," he says.
"From the day you're nominated up to the day you win or don't win you are a king or a queen. On the day the four of you lose, you're ignored overnight.
"It's really funny. Hello Mr Roberts for 30 days, then on that 31st day when you lose, they don't speak to you anymore. It's how it works," he adds.
"I'm not being woebegone about it, I have absolute humour about it."
This year, Roberts has enjoyed Amour, Beasts of the Southern Wild, The Life of Pi, and thought Lincoln was "extraordinary".
"But I don't have any favourites - if you ever name a favourite, you're going to leave four out and it's going to hurt somebody. It's not the time of year to be hurting people. Simple as that."
It's likely Roberts will not be the only Oscar-nominated actor to attend this year's Toscars.
"We have people who have been nominated for actual Oscars, they come that week because they just want to be somewhere where it's silly and it's fun and it's light, they can let their hair down," says Young.
"It's very British. We have a lot of brands that don't want to associate themselves with something for the Toscars because they say (the Oscars) are 'too sacred' or 'it's not very nice of you, you're making fun of all this hard work that people have done.'"
"I'm like, 'What are you talking about?' We're just having a big laugh, a big giggle! It's strange to see that it's become quite controversial."
The Toscars 2013 will take place in Los Angeles at the Egyptian Theatre on 19 February.