R1 Chart show will not play full Thatcher row song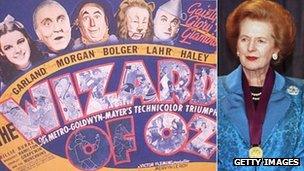 The Wizard of Oz song at the centre of an anti-Margaret Thatcher campaign will not be played in full on the Official Chart Show.
Instead a five-second clip of the 51-second song will be aired as part of a Newsbeat report, Radio 1 controller Ben Cooper said.
Sales of Ding Dong! The Witch is Dead have soared since the former Prime Minister's death on Monday, aged 87.
Mr Cooper called the decision "a difficult compromise".
The song is set to take the number three spot in Sunday's countdown, according to the Official Charts Company.
Speaking to Radio 1 Newsbeat, Mr Cooper said: "The decision I have made is I am not going to play it in full but that I will play a clip of it in a news environment.
"When I say a news environment, that is a newsreader telling you about the fact that this record has reached a certain place in the chart and here is a clip of that track.
"It is a compromise and it is a difficult compromise to come to. You have very difficult and emotional arguments on both sides of the fence.
"Let's not forget you also have a family that is grieving for a loved one who is yet to be buried."
Mr Cooper has also published a blog in which he said he had been "caught between a rock and a hard place".
"Nobody at Radio 1 wishes to cause offence but nor do I believe that we can ignore the song in the chart show," he wrote.
"To ban the record from our airwaves completely would risk giving the campaign the oxygen of further publicity and might inflame an already delicate situation."
The announcement was followed by a statement from the BBC director general, Tony Hall, who added: "I understand the concerns about this campaign. I personally believe it is distasteful and inappropriate.
"However, I do believe it would be wrong to ban the song outright as free speech is an important principle and a ban would only give it more publicity."
The decision has already drawn criticism, with Radio Times film reviewer Andrew Collins accusing the corporation of "caving in" on Twitter.
Footballer turned pundit Stan Collymore was also disdainful, saying it was "amazing that our state broadcaster really does act like it's 70's Soviet equivalents at times".
But the BBC's stance was welcomed by DJ Neil Fox, who told the BBC on Friday he felt the song was "inappropriate" and that it should only be aired, if at all, as part of a news bulletin.
BBC 6 Music DJ Jarvis Cocker was less enthusiastic and said: "It's the chart, the market has spoken - it's a free speech issue and there's no middle-ground. Part of being in a democracy is that you listen to opposing voices.
"The song is only 50 seconds long and in a weird way, without wanting to be offensive, maybe it's what she would have wanted.
This was a premier that seemed to thrive on conflict and this is her passing now being marked with some kind of controversy."
The original song was performed in the 1939 Judy Garland film by characters celebrating the demise of the much-hated Wicked Witch of the East.
The campaign has been called "tasteless" by the BBC's director general Tony Hall, Deputy Prime Minister Nick Clegg and others, though few have called for the song to be banned outright.
DJ Paul Gambaccini and former director general Greg Dyke are among those who have taken the opposite position, arguing that the chart is a statistical reality that should not be editorialised.
Speaking to the BBC, Gambaccini said: "This is unprecedented.
"Rather than the show just happening and fading away, this becomes part of the BBC history of censorship, including Je T'aime, Relax and God Save The Queen. So let's clear a space in the textbook."
Vivienne Pattison of Mediawatch UK, a group that campaigns for family values in the media, said she thought Mr Cooper had made the right decision.
She told the BBC: "Initially I thought they should play the song and be done with it and toughen it out, but I have read his statement and I think that is probably a pretty good way to do it.
"Horrible and distasteful though it is, he has been put in a very difficult position so good on him."
Ding Dong!, attributed to Garland and the cast of the movie, is also expected to feature in the Big Top 40, broadcast on commercial radio stations.
A spokesman for Capital FM, which makes the show, said it was currently "reviewing the situation".
Rival campaigns are under way to get a song considered to be more favourable to Baroness Thatcher into this week's countdown as well.
One Facebook group is seeking to boost sales of (I'm In Love With) Margaret Thatcher, a 1980 track by the punk band Notsensibles.
That news came as a surprise to band member Steven Hartley, who told the BBC News website the song had been conceived as a satirical swipe at the former Conservative leader.
"We were of Thatcher's Britain - just a bunch of ordinary north-west lads from a north-western town," said guitarist Hartley, who nonetheless said it would be "great" if the song charted.
Related Internet Links
The BBC is not responsible for the content of external sites.