Argo wins top Screen Actors Guild award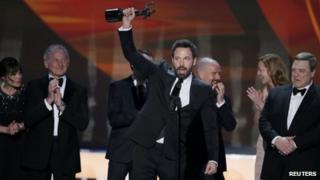 Ben Affleck's Iran hostage drama Argo has won the top honour for overall cast performance at the Screen Actors Guild (SAG) Awards.
Jennifer Lawrence took the best actress award for her role in Silver Linings Playbook, while Daniel Day-Lewis was named best actor for Lincoln.
Tommy Lee Jones and Anne Hathaway won the supporting actor awards for Lincoln and Les Miserables respectively.
ITV's Downton Abbey also picked up a prize for best TV drama series cast.
Argo beat Les Miserables, The Best Exotic Marigold Hotel, Lincoln and Silver Linings Playbook to win the top award.
"This has nothing to do with me," said Affleck, who both directed and starred in Argo.
"It has to do with the incredible people who were in this movie."
The prize came a day after Argo won the top honour at the Producers Guild Awards, the winner of whose best film prize often goes on to win best picture at the Oscars.
Affleck's film tells the fact-based story of how US diplomats stranded in Tehran after the 1979 Islamic Revolution were spirited out of the country.
As he accepted his award for best actor on Sunday, Day-Lewis remarked that "it was an actor that murdered Abraham Lincoln".
"Somehow it is only so fitting that every now and then an actor tries to bring him back to life again," he went on.
Lawrence, who smoothed down her dress after two sections of the skirt became separated as she stood up, said when she collected her award: "I want to thank [director] David [O Russell] - you made a movie for your son, so that he wouldn't feel alone and so that he could feel understood.
Russell's comedy drama is about the relationship between a man with a bipolar disorder and a woman dealing with depression after the death of her husband.
"I think I can speak on behalf of most of us in saying you helped more than your son - you've helped so many sons and daughters," Lawrence added.
In the television categories Alec Baldwin and Tina Fey were named best comedy actor and actress for 30 Rock, giving Baldwin his seventh consecutive SAG win.
The prize for best ensemble comedy series cast went to Modern Family.
The TV drama acting prizes were given to Bryan Cranston for Breaking Bad and Claire Danes for Homeland.
Julianne Moore's turn as former Vice-Presidential candidate Sarah Palin in Game Change earned her the award for best actress in a movie or miniseries, with Kevin Costner receiving the equivalent best actor honour for Hatfields & McCoys.
Veteran actor Dick Van Dyke, star of Mary Poppins and Diagnosis Murder, was presented with the guild's life achievement award.
After waiting on stage for a prolonged standing ovation to end, the 87-year-old said: "That does an old man a lot of good."
Other winners at the Producers Guild Awards on Saturday included Disney's Wreck-It Ralph, which won the animation category, and Searching for Sugar Man, which took the documentary prize.
Homeland also won the award for best television drama series, while Modern Family was named best comedy series for a third consecutive year.