Leveson: Press and politicians still seek solution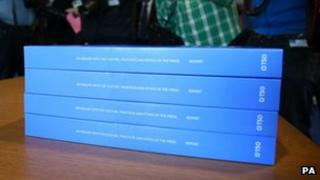 For months, the Leveson Inquiry dominated the news, as a succession of high-profile witnesses gave evidence - actors Hugh Grant and Sienna Miller, singer Charlotte Church; the parents of Milly Dowler and Madeleine McCann; editors, proprietors, police chiefs, politicians.
The climax came at the end of November, when Lord Justice Leveson published his 2,000-page report in the heart of Westminster. A few days later Prime Minister David Cameron summoned national newspaper editors to Downing Street, demanding urgent action.
"I've told them that they have to produce a tough, independent regulatory system rapidly and they've got to do it in a way that absolutely meets the requirements of Lord Justice Leveson's report," he told the BBC on 4 December.
"That means million-pound fines, proper investigation of complaints, prominent apologies - and they know, because I've told them, that the clock is ticking for this to be sorted out."
Devil in the detail
Eight weeks on, publishers and politicians are still grappling - in separate discussion groups - for a solution that will command public confidence.
They say the devil is in the detail. What carrots and sticks can be used to encourage publishers to join - and what if they don't? How do you appoint the people who will appoint the board of the new regulator, to make sure it's independent of government and newspapers?
Who will be on the so-called "recognition body" that will check the system is working? And do you need a law to make sure publishers comply?
Hacked Off, which represents victims of press harassment, says that you do - and claims editors and politicians are watering Leveson down, behind closed doors.
Its chairman, Hugh Tomlinson QC, told last week's Oxford Media Convention that a balance must be struck between the media's right to investigate, and hold politicians to account, and the public's right to privacy and freedom from harassment.
"The system that we've had to date has manifestly failed to do that," he said. "And my take on it is that it is impossible to imagine a situation where the British print media will voluntarily move to a position where some proper balance is achieved."
The chairman of the Press Complaints Commission, Lord Hunt, says that he's leading the industry's efforts to come up with a tough, new system - and the proprietors have all told him they'll sign up.
'Give me a chance'
Facing fierce questioning in Oxford, he said the industry was making good progress but needed time to button down all the details.
"On the tenth of January, I had 93 people in my law office in the City - publishers, editors - and they all agreed with the general thrust of what I'm talking about - a Leveson-compliant, new regulatory body" he said. "Just give me a chance to set it up."
Despite this "general" agreement, it isn't clear exactly what the publishers and editors have agreed to, as Roy Greenslade pointed out on MediaGuardian after the meeting.
Meanwhile cross-party talks continue at Westminster, over whether a law is needed, and if so what form it should take.
When the report was published, Mr Cameron swiftly rejected Lord Justice Leveson's proposal that the new system must be underpinned by statute. By doing so, the Daily Mail said, he had "refused to undermine 300 years of Press freedom".
Other parties supported the Leveson plan. Several draft bills are doing the rounds, as well as a government plan - put forward by Mr Cameron's policy adviser Oliver Letwin - to underpin the regulator's recognition body by a Royal Charter.
In a House of Lords debate in January, this was opposed by the former Conservative cabinet minister Lord Fowler.
'Untried and untested'
The deputy Labour leader Harriet Harman told the Oxford Media Convention that she too was sceptical about a Royal Charter and favoured a statute.
"While the statutory route is straightforward, the royal charter route is anything but," she said. "It is untried and untested and we are unpersuaded that it can do the job which Leveson proposes."
With politicians and publishers still talking, Lord Hunt wants the new press regulator up and running by 1 July. It seems the clock will be ticking for some time to come.