Booker nominee wins Asian literary prize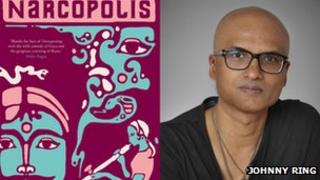 Author Jeet Thayil has won the DSC Prize for South Asian literature for Narcopolis, his Booker-nominated debut novel about drug addiction in Mumbai.
Thayil is the first Indian to win the prize, awarded annually to a work of fiction "inspired by the South Asian region, people, culture and diaspora".
"Narcopolis mixes fantasy and reality to create a powerful story," said the poet K Satchidandan, chair of the jury.
Thayil, one of six shortlisted authors, wins $50,000 (£32,000).
The shortlist was drawn from more than 80 entries by authors and translators from around the world.
Books in contention included Jamil Ahmad's The Wandering Falcon, Tahmima Anam's The Good Muslim, Amitav Ghosh's River of Smoke, Mohammed Hanif's Our Lady of Alice Bhatti and Uday Prakash's The Walls of Delhi.
Manhad Narula, one of the organisers of the literary prize, said the winning novel "unearthed... a rare, unfiltered, inside view into a lesser known world that exists within South Asia".
Thayil, a poet and librettist who has lived in Mumbai, Hong Kong and New York, has called his first novel - one of six books nominated for last year's Booker prize - "nightmarish".
Speaking about his own struggle with addiction, which lasted 20 years, he told BBC Arts correspondent Rebecca Jones last year he felt "lucky" to be "here to talk about it".
The 52-year-old courted controversy last year when he was one of four authors to read from Salman Rushdie's The Satanic Verses, whose import is banned in India, at the Jaipur Literature Festival. He later apologised.
The DSC Prize, now in its third year, is sponsored by the construction company DSC Limited, principal sponsor of the Jaipur Festival.
Thayil's win was announced at this year's event, which began on Thursday and runs until Monday.