Beverly Hills Cop TV show planned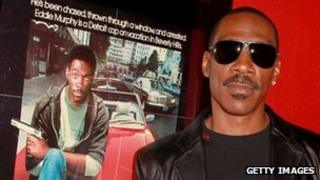 Eddie Murphy is to reprise his Golden Globe-nominated performance as free-wheeling detective Axel Foley in a TV version of 1984 hit Beverly Hills Cop.
According to the Hollywood Reporter, the US CBS network has commissioned a pilot episode of a Beverly Hills Cop show, based around Foley's adult son.
Brandon T Jackson will portray Aaron Foley, a cop working in Beverly Hills trying to escape his father's shadow.
Murphy, one of the show's executive producers, will appear in the pilot.
If a full series is commissioned, it is understood the 51-year-old star will appear intermittently.
The original Beverly Hills Cop, directed by Martin Brest, was followed by two sequels, directed by Tony Scott and John Landis respectively.
Jackson - who, like the Foleys, hails from Detroit, Michigan - is a comedian and rapper who has been seen in such films as Tropic Thunder and Percy Jackson and the Lightning Thief.
In 2011 comedy sequel Big Mommas: Like Father, Like Son he played the stepson of Martin Lawrence's cross-dressing undercover FBI agent.