Quentin Tarantino to receive American Riviera award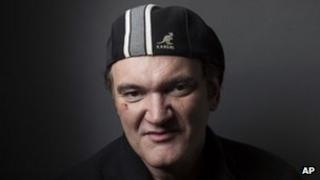 Quentin Tarantino is to be presented with an award by the Santa Barbara Film Festival after the intended recipient, Leonardo DiCaprio, pulled out.
The director agreed to step in for the actor, who stars in Tarantino's latest movie, Django Unchained, because DiCaprio had 'scheduling conflicts'.
Tarantino will receive the American Riviera Award on 30 January.
The film festival's executive director, Roger Durling, said he was "blown away" by Tarantino's acceptance.
Durling told the Variety website: "We were obviously saddened by DiCaprio's conflict, but blown away at the chance to honour Tarantino.
"He's one of the most stylistically daring directors, who is an SBIFF [Santa Barbara International Film Festival] favourite."
The annual American Riviera Award is typically given to an actor who has had a "strong influence on American cinema", but the film festival broke with tradition last year to hand the prize to director Martin Scorsese.
Previous recipients include Mickey Rourke, Philip Seymour Hoffman, Annette Bening, Tommy Lee Jones, Kevin Bacon, and Diane Lane.