Olympic opening ceremony most requested on iPlayer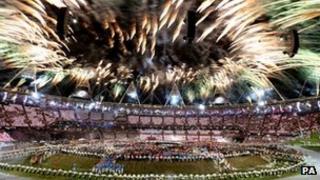 The London 2012 Opening Ceremony was the most requested programme last year on the iPlayer, the BBC has revealed.
Danny Boyle's spectacular Olympic curtain-raiser topped iPlayer viewing in 2012 with 3.3 million requests, in a year that saw record numbers achieved by the BBC's on-demand service.
Top Gear was the second most popular programme with 2.8 million requests.
Overall 2012 saw 2.32 billion requests for TV and radio programmes, a rise on the 1.94 billion recorded in 2011.
Last year saw 36.5 billion minutes of BBC programmes viewed across all platforms via the five-year-old service.
According to the corporation, the most significant trend in 2012 was the growth in iPlayer requests from mobile phones and tablet devices.
Requests to view or listen to BBC output via such portable hand-held devices now make up more than a quarter of total iPlayer requests.
December continued to be the most popular month for the iPlayer, with the 217 million requests received representing a 23% increase on December 2011.
The festive editions of Doctor Who, EastEnders and Miranda were the most popular programmes with iPlayer users.
More than 24 million people watched the Olympic opening ceremony as it was broadcast live on BBC One on 27 July.
The Olympics closing ceremony was seen by an average of 24.5 million viewers and went on to receive 2.1 million requests on the iPlayer.