Winner given 'perfect' send-off as stars attend funeral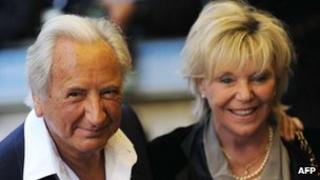 Sir Michael Parkinson and former Rolling Stone Bill Wyman were among the mourners at a private funeral held for film director Michael Winner.
The pair were joined by other faces from the world of show business at the Jewish ceremony in north London.
Winner died at his home on Monday morning following a lengthy battle with liver disease. He was 77.
He directed more than 30 films, including the Death Wish series and Scorpio.
The funeral service, at the Willesden Jewish Cemetery, was conducted by Rabbi Geoffrey Shisler, followed by a reception at Winner's Kensington home.
A statement issued by the director's office said: "If Michael had been alive to film it, he would have said, 'Perfect, darling, perfect'.
"A cold wind whipped a flurry of snowflakes across the cemetery - a film director's dream."
Winner's personal assistant Natalie Wright added: "It was the most moving occasion. I've worked for Michael for the last five years and he would have loved the send-off."
Other mourners included the director's wife, Geraldine, Sir David Frost, singer Chris Rea, photographer Terry O'Neill and lyricist Don Black.
Winner, who worked with actors including Marlon Brando and Faye Dunaway in a career spanning 50 years, had experienced a run of ill-health since eating a bad oyster on holiday in Barbados in 2007.
But he continued in his role as a restaurant critic, writing a weekly column called Winner's Dinners in The Times.
His final piece was written on 2 December, when he signed off with the headline: "Geraldine says it's time to get down from the table. Goodbye."