Hyde Park gigs 'will be louder'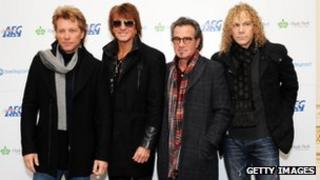 Rock concerts in London's Hyde Park will be louder this summer, promoter AEG Live has promised.
Last year, fans complained that gigs by Blur and Madonna were too quiet, as a result of noise restrictions imposed by Westminster council.
But AEG says a repositioned stage will allow the volume to be turned up without disturbing local residents.
American rock band Bon Jovi were announced as the first band to play on the new stage in the royal park.
AEG has won a five-year tender to host concerts in the venue. The previous promoter, Live Nation, has moved its summer concert series, including the Wireless Festival, to the Olympic Stadium.
The new set-up will be "better for residents, customers and bands", said AEG Live Events Director Jim King.
The company conducted an independent report into sound levels and King said "it was very clear early on" that the "orientation and position of the stage" was of crucial importance.
"We worked the plan in terms of relocating that stage and orienting it away from the residents because previously it had been firing straight at them."
"The report is very clear, it shows an improvement whilst still maintaining the off-site limits that we need to uphold, so we're confident."
However, residents remain unconvinced.
"We all know it's a half-measure and that they want to satisfy Westminster in order to keep the concerts running," said Anthony Lorenz, Chairman of the Residents Society of Mayfair and St James.
He called on the promoters to build higher, sound-proofed fences to block out the noise, adding: "It is incredibly unfair to the people who live there, who might be having a peaceful garden party, while there's heavy bass music coming from the park."
A 'lot of fun'
Jon Bon Jovi insisted his band would play as loudly as possible, making a joking reference to Spinal Tap: "We will make sure we play it as loud as eleven... Hopefully all the authorities know all the words and they can sing along as they're carting me off to the Hyde Park jail."
The group first played the park in 2002 and the frontman added: "Hyde Park's great, especially when you're staying here".
"That's another problem I have with London, the traffic, so when you go out the door and go to work... That's my idea of commuting."
AEG, which stages tours by artists as varied as Taylor Swift and Leonard Cohen, said the Hyde Park shows would provide a "new festival experience".
The Great Oak Stage will be a bespoke platform for the main stage acts, with LED panels and screens, designed to be camouflaged within the park setting. The lighting control booth will be set in a tree house.
Meanwhile, there will be film set facades in four zones and the promise of flushable toilets.
Speaking about the homogenisation of music events, King said: "It terms of look and feel and service, we really wanted to win this. It's the premium outdoor event location in the world, let alone London, so for us to win it we needed to raise the bar."
Head of Events for The Royal Parks, James Russell, said curfews would remain the same as last year, but it is hoped there will not be a repeat of last year's Bruce Springsteen show, where microphones were turned off mid-way through a song.
AEG's King said: "It's very unfortunate but I can't think of another time it's happened... Nine times out of 10 they (curfews) are adhered to, so I don't see a problem at all."
The capacity of Hyde Park events will also be slightly reduced. Three shows will allow an audience of 65,000 people and three will be limited to 50,000.