Bolshoi ballet theatre appoints temporary director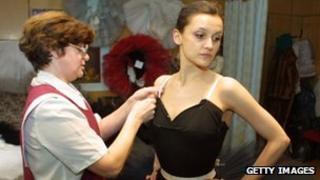 Russia's Bolshoi Theatre has appointed a former prima ballerina as a temporary replacement for its artistic director who is recovering from an acid attack.
Galina Stepanenko joined the ballet company in 1990, retiring last year.
Award-winning ballet star, Sergei Filin was walking home in central Moscow when a masked man threw acid in his face.
Stepanenko said she would fulfil Filin's plans and stick to his chosen repertoire, beginning with the opening of La Bayadere on Thursday.
Stepanenko and Filin, who are both aged 42, danced together for many years.
She has been described as "a virtuoso of classical dance."
Announcing his temporary replacement, the Bolshoi's executive director, Anatoly Iksanov said Stepanenko was Filin's choice to serve as acting artistic director and he supported the decision.
Infighting
Filin had suffered months of threats prior to the attack outside his apartment complex on Thursday.
It was suspected that he was the victim of infighting and rows between different groups of dancers at the Bolshoi.
Asked about infighting, the award-winning dancer Stepanenko said the ballet company was composed of many "brilliant, very diverse, very talented people."
"I think that we will now respect, value and especially take care of one another," she said.
Filin had surgery on his face on Tuesday and is scheduled to have a second operation on Wednesday. Doctors are most concerned about saving the sight in his right eye.
Iksanov said Filin would return to his position at the Bolshoi, although it was not clear when that would be.
Tensions at the Bolshoi over its artistic programme have been widely reported in Russian media.
In 2011, two ballet stars - Natalia Osipova and Ivan Vasiliev - resigned in protest at the Bolshoi's new repertoire.
Following the attack, Iksanov told Russian television that Mr Filin was "uncompromising" in his management style.
"If he thought a performer was unready to play a certain role, or incapable of it, he would not let the performer do it," he said.