Rylan Clark 'left Big Brother house' for X Factor rehearsals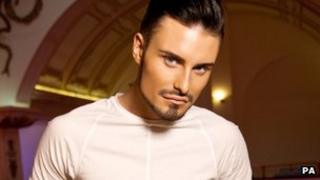 Rylan Clark has regularly left the Celebrity Big Brother house in order to attend rehearsals for the upcoming X Factor tour, Channel 5 has confirmed.
The rules of Big Brother usually state that contestants will have "no contact with the outside world".
But, unbeknownst to viewers, Clark has taken choreography classes away from the house over the last few weeks.
Channel 5 said the rehearsals had been held within the Elstree facility where Big Brother is filmed.
"Rylan has rehearsed for his tour on site with a choreographer, escorted by a Big Brother producer," the broadcaster said in a statement.
Clark, a former model, was a quarter-finalist on last year's X Factor and will be under contractual obligation to perform on the arena tour, which launches in Manchester on Saturday.
Details of his absence from the Celebrity Big Brother house were revealed, seemingly by accident, on Channel 5's Matthew Wright Show.
Former EastEnders actress Gillian Taylforth, who was voted off the reality show last week, was asked to describe how she kept track of time during her residency.
"You don't know what time it is," she said, "you've got no watch."
"What we used to do, us women, we used to go outside and say, 'right it's getting a bit dark, it's about picking up time from school, about quarter past three.
"Then Rylan went out to do X Factor rehearsals... and when he came back he just asked somebody the time very quickly, like the driver, and we said to him when he got in, 'quick, what's the time?'"
In the past, contestants have only been allowed out of the Big Brother compound for medical treatment or emergency dentistry.
Fans of the show have reacted angrily to the revelation on social media.
Calling the news a "disgrace", Twitter user Nikki demanded: "He should be removed now".
Julie Dean added: "[Definitely] don't think Rylan should be able to win Big Brother considering he been leaving the house every other day".
The series is due to end on Friday, with Clark the current bookies' favourite to win.