Chastain tops US box office with Mama and Zero Dark Thirty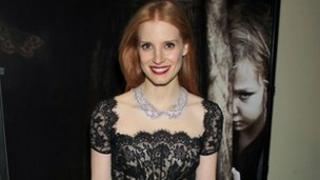 Supernatural thriller Mama has topped the US box office with its star Jessica Chastain leading in this weekend's two top grossing films.
It opened above expectations, earning $28.1m (£18m) while Zero Dark Thirty, in which Chastain leads the hunt for Osama Bin Laden made $17.6m (£11m).
Continuing its success, the Oscar-nominated Silver Linings Playbook made $11.4m (£7m) after 10 weeks on release.
Rounding off the top five were crime films Gangster Squad and Broken City.
While horror films generally have a greater appeal with male audiences, Mama was a big hit with females, who made up 61% of its audience.
The weekend's other films included Broken City, Django Unchained, Gangster Squad and The Last Stand.
Female audience
"Never underestimate the drawing power of a PG-13 horror film," Paul Dergarabedian, box-office analyst for movie tracker Hollywood.com said of Mama, which tells the tale of sisters Victoria and Lily who disappeared in the woods the day their mother was murdered by their father.
Elsewhere in the chart, Arnold Schwarzenegger's post-politics comeback failed to ignite cinema-goers. His action film, The Last Stand debuted with just $6.3m (£4m) to take the number 10 spot, making it one of the worst openings for the 65-year-old Terminator star.
While Schwarzenegger co-starred in The Expendables 2 in August, action comedy The Last Stand was his first lead role since he exited the California governor's seat in January 2011.
Quentin Tarantino had another successful week with his Oscar-nominated Django Unchained.
After four weeks on release in north America, the Spaghetti Western became the director's biggest box office success, outperforming his previous film Inglourious Basterds, by adding $8.2 million for a domestic total of $138.4m (£87m).
Internationally, the film did exceptionally well, taking in $48.1m (£30m) in its opening weekend.
Other Oscar favourites saw their largest boost internationally. Ang Lee's 3-D fantasy Life of Pi added $20.7m (£13m) to its huge $393.9m (£248m) international haul.
The international take for Tom Hooper's musical, Les Miserables, also grew to $150.5m (£95m) with $19.4 million on the weekend.