Les Miserables soundtrack tops UK album chart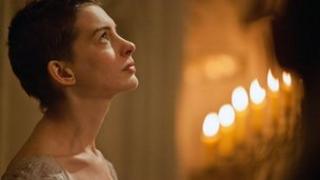 The soundtrack to Tom Hooper's Oscar-nominated Les Miserables has become the first cast recording to top the UK and Ireland album chart in 16 years.
It has knocked Brit-nominated Emeli Sande's best-selling Our Version of Events into second-place with newcomer Jake Bugg's self-titled debut in third.
The last musical to achieve a similar feat was the soundtrack to the film Evita, starring Madonna, in 1997.
Will.i.am and Britney Spears had the number one single for a second week.
Their track, Scream & Shout, held off competition from rapper 50 Cent, whose new release, My Life, featuring Eminem and Maroon 5's Adam Levine, entered the chart at number two.
Also failing to claim the top spot was singer-turned-actor Justin Timberlake, who released his first single in six years - Suit and Tie, featuring Jay-Z - earlier this week.
The last time Timberlake, who has recently starred in films including The Social Network and Friends with Benefits, had a UK chart hit was as a guest on rap producer Timbaland's Carry Out in April 2010.
The 31-year-old had to settle for number three with his latest release. Taylor Swift and Rihanna rounded off the top five.
'Songs missing'
Les Miserables's success was not limited to the album chart as actress Anne Hathaway scored her first ever UK Top 40 hit with I Dreamed A Dream, which climbed 58 places to number 22.
The soundtrack album contains highlights from the two-and-a-half hour film, including On My Own, Empty Chairs At Empty Tables and Suddenly, a new song written specifically for the film adaptation.
However, it is missing more than an hour of music, with the likes of Lovely Ladies, Who Am I and Do You Hear The People Sing omitted from the compilation.
Several fans have petitioned film company Universal Studios and record label Republic Records to release the full score.
Russell Crowe, who plays police inspector Javert, has joined the calls, writing on Twitter: "I know there has been talk of releasing the complete score and 48 tune soundtrack of #LesMis tell @UniversalPics you want it."
But not everyone is a fan of the album, which features live vocals recorded on the set of the film.
"I think it would have been better if they tweaked the sound a little bit on the voices," said stage veteran Elaine Paige on her Radio 2 show.
"It's all too naturalistic, overblown, over-acted for my taste".
The Telegraph's Emma Gosnell agreed, saying: "For me, at key moments in the score, the vocals just weren't raw and real enough."
Even Helena Bonham Carter, who plays the scheming bar owner Madame Thenardier, said she was underwhelmed by her own performance.
"I had lots of vocal training for Les Mis but I didn't improve as much as I thought I would," she said.
"I watched it and I thought I was going to be so much better, I thought my voice was going to be so much bigger.
"I practised and practised and practised but the thing with Les Mis is that it was real, so that's what we sounded like."
Elsewhere in the album charts, Manchester-based indie rockers Everything Everything - whose debut record Man Alive was nominated for the Mercury prize - enjoyed their highest-charting album to date, as Arc entered at number five.
Rapper and BBC Sound of 2012 finalist, A$AP Rocky, scored his first top ten album with Long Live A$AP, which debuted at number seven.
Other new entries were Irish folkster Villagers whose Awayland charted at sixteen and pop veterans New Order, whose Lost Sirens - made up of tracks recorded during sessions for their 2005 album Waiting For The Sirens' Call - landed at 23.