Sundance Film Festival attracts Hollywood's brightest stars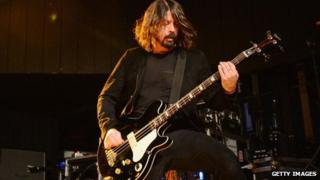 A slapstick comedy about a woman obsessed with Pride and Prejudice is a highlight of the first weekend of films at the Sundance Film festival in the US.
"Tally ho!," shouts American Pie actress Jennifer Coolidge in Jane Austen send-up, Austenland, which premiered this weekend. "The British are coming!"
She appears to have got that right in the case of Austenland, which is about a woman so obsessed with the 1996 BBC production of Pride and Prejudice that she journeys to England to find her Mr Darcy.
It is directed by Jerusha Hess, who - along with her husband Jared - directed surprise 2004 hit Napoleon Dynamite, and has a mainly British cast and crew, and was filmed on location in the UK.
With rave reviews from audiences, it's being touted as this summer's Bridesmaids - although this low-budget, independent film can currently only dream of those kinds of profits. Hess says she prefers to think of it as "the anti-Downton Abbey".
"Everyone in the US is so obsessed with British costume drama and here we are as a costume drama comedy. But sometimes we forget that Jane Austen herself was a comedic genius. I think she'd like to see someone ripping it out of her work."
Independent platform
This is what the Sundance Film Festival is famous for - transforming the fortunes of made-on-a-shoestring movies and giving them a platform for commercial success. Its latest example is Beasts of the Southern Wild by Benh Zeitlin, which had its world premiere at Sundance in 2012, and now has four Oscar nominations.
Similarly, all the documentaries nominated at this year's Academy Awards screened at Sundance.
Started in 1985 in the ski-resort of Park City, Utah by actor Robert Redford, this year it has 57 world premieres and half of all the films in competition are made by women - a first for any film festival.
"If you have an independent film, you want to bring it to Sundance," explains actor Daniel Radcliffe. " No other place can do such big things for a tiny movie."
Radcliffe is another competitor at this year's event, for John Krokidas's feature film debut, Kill Your Darlings.
The former child star plays beat poet Allen Ginsberg as a young student in the throes of literary revolution, along with his contemporaries Jack Kerouac and William Burroughs. He auditioned for the part four years ago when he was still filming the Harry Potter series.
"We did everything wrong on this film, basically, " he says. " We had no budget, and yet it was a period drama set in lavish locations. Somehow we've pulled it off. Honestly, I think it's the very best thing I have ever done."
Critics seemed inclined to agree, calling the movie, "the Social Network for the Beat generation" - although without Radcliffe's presence, the film may have struggled for more column inches.
His presence is another indicator of how popular the event is with big stars. Over the first weekend of the festival, it has featured a line-up that the Cannes Film Festival would envy - Nicole Kidman, Naomi Watts, Julianne Moore, Matthew McConaughey and Joseph Gordon-Levitt have braved the freezing temperatures and utilitarian venues to premiere their movies.
They are joined by film producers and talent managers, leading to Park City to be described during the festival as "LA on snow."
Alongside the major actors are major brands who, on occasion, hand out gifts in Park City, which has led to accusations of the "Hollywood-isation" of Sundance - something John Cooper, the festival's Chief Programmer, says is unintentional.
"Because the studios are no longer making many character dramas, these actors have to find their creativity in smaller, often low-budget indie films," he explains. "So really, I suppose Hollywood has come to us.
The Dark Knight Rises and Looper star Joseph Gordon-Levitt agrees. He makes his directing debut with Don Jon's Addiction, a comedy examining attitudes to pornography. "There wouldn't even be independent cinema now in the US without Sundance existing," he says. "There would be no platform for half the films I have made."
Cooper says he was surprised at the amount of sex featured in the submissions for this year's competition - from The Look of Love, Michael Winterbottom's biopic of porn baron Paul Raymond, starring Steve Coogan, to Amanda Seyfried playing one of the most famous porn stars of all time, Linda Lovelace, in another biopic.
Documentaries
It is the documentary category, however, that usually provokes the biggest headlines of Sundance. This year, After Tiller, a study of four doctors in the USA who provide late-term abortions, was such a controversial subject that metal detectors had to be installed at the premiere for fear of assassination attempts.
After Tiller puts a human face to a divisive political issue in the US and there was, according to director Lana Wilson, "more security than for Nicole Kidman."
Another documentary, Twenty Feet from Stardom puts a face to some of the most nameless people in the music industry, namely backing singers.
With commentary from Bruce Springsteen and Sting, it charts the fortunes of artists who've supported Michael Jackson and Stevie Wonder but never managed to find stardom themselves. It became the first film to find a buyer at this year's festival - in this case, producer Harvey Weinstein.
Although there was no sign of any of these music stars, one rock star has been spotted around Park City - Dave Grohl, making his directing debut in a documentary, with Sound City - a look at the legendary LA studio where Nirvana recorded their definitive classic album Nevermind.
He and the rest of his band The Foo Fighters nearly closed down Park City's tiny Main Street when they played a local pub in celebration of the world premiere.
For ten days in January, this small town in Utah really is the biggest place in the entertainment industry.
The Sundance Film Festival runs until January 27, 2013. The UK leg will be held in London in April.