Beyonce, Fun and Glee on Obama's inauguration playlist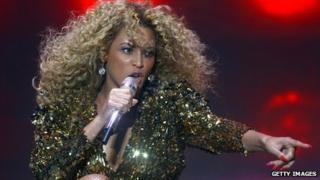 Beyonce and Fun are among artists on President Barack Obama's inauguration playlist which he has revealed ahead of the ceremony on 21 January.
The 16-track playlist also includes John Legend's Ordinary People and the cast of Glee covering Lady Gaga.
Obama released the official list - some of his favourite music - on the digital music service Spotify.
The artists will all perform at different inaugural events, which start Saturday in Washington DC.
Obama's list also includes Firework by Katy Perry and James Taylor's Your Smiling Face.
Other artists include Stevie Wonder, Alicia Keys, Usher, Smokey Robinson, Brad Paisley and Kelly Clarkson.
Beyonce previously performed at one of Obama's inauguration balls four years ago, singing Etta James's At Last while Obama and his wife Michelle had their first dance.
She will sing the US national anthem, The Star-Spangled Banner, at this year's inauguration ceremony on Monday.
Clarkson will perform My Country Tis of Thee and Taylor will give his rendition of America the Beautiful.
Wonder, Usher and Taylor were also involved in Obama's inauguration in 2009, having contributed to his inaugural committee CD, Change Is Now: Renewing America's Promise.
It was released in April 2009 and also included tracks by Will.i.am, Wilco and Jennifer Hudson.