Marion Cotillard to receive Hasty Pudding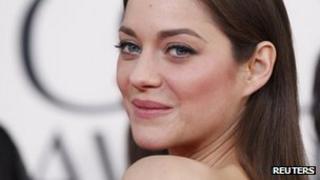 Oscar-winning French actress Marion Cottilard has been named as the recipient of this year's Hasty Pudding Woman of the Year award.
The 37-year-old will be honoured with the traditional parade and celebratory roast at Harvard University in Boston on 31 January.
The award is handed out annually by the university's theatre troupe.
It is given to actors who have made a "lasting and impressive contribution to the world of entertainment".
Harvard's Hasty Pudding Theatricals is the oldest undergraduate drama troupe in the US.
Organisers praised Cotillard for her "multitude of talents and an unbridled commitment to her art".
"We all have a French exam that we're a little nervous about, so we thought we'd pick somebody who can tutor us," Pudding president Renee Rober joked to the Harvard Crimson.
"But in all seriousness, she is wildly talented -she can sing, act, dance, speak both English and French...Nobody is more excited about that than I am."
Cotillard won the best actress Oscar in 2008 for her role as Edith Piaf in La Vie En Rose.
She had been expected to receive an Oscar nomination for her role in Rust and Bone this year, but missed out.
The star has also appeared in The Dark Knight Rises, Inception and Contagion.
Homeland actress Claire Danes was awarded the ceremonial pudding pot prize last year.
Other previous recipients include Anne Hathaway, Meryl Streep, Katharine Hepburn, Julia Roberts and Jodie Foster.
The Man of the Year award - won last year by comic actor Jason Segel - will be announced at a later date and honoured on 8 February.