Sir Tom Stoppard to receive Writers Guild accolade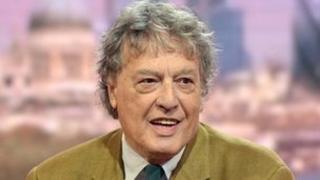 British playwright and screenwriter Sir Tom Stoppard is to be honoured by the Writers Guild of America next month.
Sir Tom, whose recent credits include Anna Karenina and Parade's End, will receive the Laurel Award for Screen at its 17 February awards in Los Angeles.
Howard A Rodman, vice-president of the Writers Guild of America West (WGAW), said Stoppard brought "wit, elegance and heart to all he composes".
Previous recipients of the accolade include US playwright David Mamet.
Sir Tom shared an Oscar in 1999 for the screenplay he co-wrote with Marc Norman for the film Shakespeare in Love.
His many stage plays include The Real Thing, Arcadia and the Hamlet-inspired Rosencrantz and Guildenstern are Dead.
In a statement, Rodman said Stoppard's screenplays - which also include those for Terry Gilliam's Brazil and Steven Spielberg's Empire of the Sun - "delight, disturb [and] entrance".
"Whether adapting the masters... or crafting his own tales, Stoppard brings dignity and coherence to the act of imagination."
Moonrise Kingdom and The Master are among the films nominated for the Writers Guild's original screenplay prize, while Argo, Life of Pi and Lincoln compete for its adapted screenplay honour.
However, a number of other high-profile awards contenders - among them Django Unchained, Les Miserables and Beasts of the Southern Wild - have been ruled ineligible for this year's prizes.
The Guild has strict guidelines on how scripts are submitted to them for award consideration.