King Kong musical is 'a puzzle' says Elbow's Guy Garvey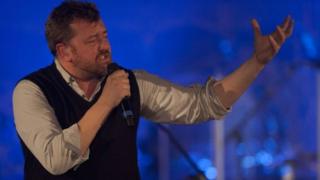 Elbow's Guy Garvey says writing for a new King Kong musical was "like doing a very difficult word search".
The singer has been putting together music for the show, which premieres in Australia this May, alongside Massive Attack, Justice and The Avalanches.
Speaking to BBC 6 Music, Garvey said: "It couldn't be more different than what I do with Elbow.
"I've never had to do journalistic research to write a song before," he told Elizabeth Alker.
"The director, Daniel [Kramer], gave me tons and tons of background on what was going to happen in the scene and how it was important to the flow of the show.
"It's actually more like doing a very difficult word search, which I quite like doing."
Bridging scene
Kramer has won praise for his previous shows, including a carnivalesque production of Harrison Birtwistle's opera Punch and Judy at the ENO and a production of Bizet's Carmen set in Seville, Ohio.
King Kong: The Eighth Wonder of the World will feature a one-tonne, 6m-high animatronic gorilla, and a cast of 49 actors, singers, dancers, circus performers and puppeteers.
The director says the soundtrack will encompass "the classical strings of the ocean waves to electronica" and "the drum'n'bass of King Kong running as his fist pounds the earth".
The score is being arranged by Marius de Vries, who has produced records for Rufus Wainwright and Elbow, and who directed the music for Baz Luhrmann's Moulin Rouge.
Garvey is writing for the character of Jack, and asked Kramer if he could delve into his back story for the lyrics.
"Nobody remembers Jack from King Kong because the ape is the romantic lead, really," he said.
"But he's turned his back on his father's steel empire and, in doing that, cut himself off from his inheritance."
While researching the production of the original 1933 King Kong film, Garvey discovered that it took place at the same time as the Golden Gate bridge was being built, and wanted to tie this into his character,
"It [the bridge] is made of 97 tonnes of American steel and 10 people fell off it and died in the first month of it being made," he said.
"I thought, 'This is something that would make somebody turn their back on their father's steel empire, their disregard for human life'. So I've written the Golden Gate bridge into the story of Kong."
The musical will start previews in May at Melbourne's Regent theatre in Australia.
Elbow, who are in the middle of writing the follow-up to their 2011 Mercury Prize-nominated album, Build A Rocket Boys!, are taking a hiatus while Garvey works on King Kong.
"I've not not seen the members of Elbow for more than thee weeks in 22 years, so it's going to be quite strange not seeing the lads for a couple of months," he said.
The album is almost half-finished, he added, and will include a new song inspired by his recent trip to the New York.
"I wrote a diary entry when I landed there last time, which has turned into a song. The working title is New York Morning and all the stuff I was thinking at the time is in there and it's definitely going to make the record."