In the Realm of the Senses director Nagisa Oshima dies at 80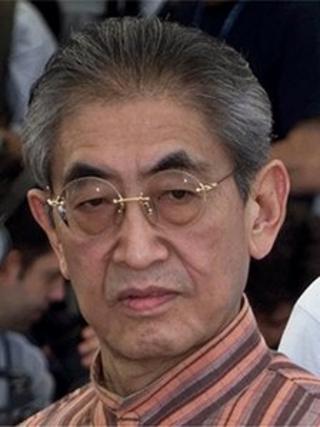 Japanese filmmaker Nagisa Oshima, best known for his sexually explicit film, In The Realm of the Senses, has died at the age of 80.
The 1976 film, also known by its Japanese title, Ai No Corrida, featured unsimulated sex between the actors.
Oshima also directed singer David Bowie in the WWII prison-camp drama Merry Christmas Mr Lawrence.
"My father died calmly," his son Arata told the AFP news agency, adding that the film-maker had died of pneumonia.
Born in Kyoto, Japan, Oshima made his debut feature, A Town of Love and Hope, in 1959.
A series of politically charged films followed throughout the 1960s, in which Oshima aimed his keen director's eye at issues including capital punishment and racism, in films like The Catch and Death By Hanging.
Banned
His most controversial project reflected his lifelong criticism of censorship.
In The Realm of the Senses, a film based on a true story of obsession in 1930s Japan, was incredibly explicit for the time, with the two protagonists engaging in increasingly intense, graphic and bizarre sexual practices.
In the final scenes, the male protagonist has his genitals severed by his lover, a prostitute-turned-hotel worker.
The film fell foul of censors in Germany, the UK and the US - where it was seized by customs officials ahead of a planned screening at the New York Film Festival.
Oshima's companion film, the more restrained Empire of Passion, won him the best director prize at the Cannes Film Festival in 1978.
He followed that up with Merry Christmas Mr Lawrence, starring rock star David Bowie and Tom Conti as WWII prisoners of war, interned in a Japanese camp. It was shortlisted for the Palme d'Or at Cannes and its score, by Ryuichi Sakamoto, won a Bafta.
The Cannes jury also shortlisted his next film, bizarre comedy Max Mon Amour, which featured British actress Charlotte Rampling as the wife of a philandering diplomat, who takes a chimpanzee as her lover.
During the 1980s and 90s, he served as president of the Directors Guild of Japan but in 1996 suffered a stroke.
He recovered and directed his final film, 1999's Taboo, which was set among Japanese samurais in the mid-19th Century and concentrated on the issue of homosexuality.
At his death, "he was with members of his family, wife Akiko and elder son Takeshi," said his son Arata, speaking from his late father's home in Fujisawa, outside Tokyo.
"I wasn't there. My father had been in hospital since late last year and died of pneumonia."