Bernard Cribbins to star in Old Jack's Boat on CBeebies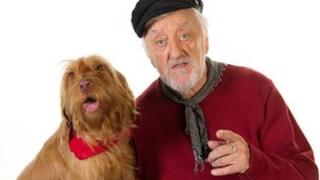 Bernard Cribbins is to return to children's TV with his first regular role in 20 years on CBeebies, the BBC has announced.
In Old Jack's Boat, which mixes live action and animation, Cribbins plays an old fisherman who spins tall tales from his boat, The Rainbow.
Former Doctor Who writer Russell T Davies has written two episodes for the new show, which starts on 21 January.
Cribbins was a regular host on Jackanory on the BBC until 1991.
The programme, which encouraged children to read by featuring a presenter telling them a story, ran for more than 30 years, clocking up more than 3,500 episodes.
In 2009, Cribbins made several appearances on the CBeebies show, Bedtime Stories.
Recently, he worked with Davies on Doctor Who playing Wilfred Mott, one of the Doctor's companions.
Another former Doctor Who star, Freema Agyeman, will also be a series regular as Shelly Periwinkle, the owner of the Mermaid Cafe.
Cribbins, who celebrates 70 years in entertainment this year, also narrated BBC programme The Wombles between 1973 and 1975. In 2011, he was appointed an OBE for services to drama.
Davies said: "Sitting watching Bernard Cribbins reading out some lines that you've written, I can't tell you how good it was, it was a joy."
Comedian Helen Lederer, recently seen on ITV diving show Splash!, plays another recurring character called Miss Bowline-Hitch.
The score for Old Jack's Boat has been recorded by the BBC Philharmonic Orchestra, a first ever for a CBeebies series.