Yes, Prime Minister panned by UK critics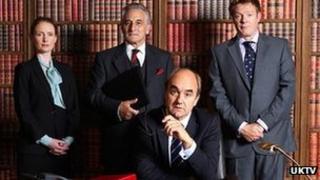 The revival of classic 1980s comedy Yes, Prime Minister has been met with criticism from reviewers.
Written by original creators Antony Jay and Jonathan Lynn, the updated version stars David Haig as Prime Minister Jim Hacker and Henry Goodman as Cabinet Secretary, Sir Humphrey Appleby.
However critics panned the first episode if the six-part series on Gold.
The Independent said the show was "a beat or two off", adding "further consultation" was required.
"For one thing, you just can't pretend that The Thick of It never happened, as this seemed to do in featuring a scene of political advisers wincing as their boss flounders through an interview," Tom Sutcliffe wrote.
"For another, Henry Goodman can't quite expunge the memory of [original cast member] Nigel Hawthorne's silky perfection."
In its detailed comparison of the original series against the new, the Radio Times concluded the remake was "not even close" to the "untouchable classic".
"Stagey and unsubtle, with nothing new or relevant to say about modern politics and with weaker one-liners," Jack Seale said.
"The new Hacker seems much more aware of Sir Humphrey's scheming, which takes away a key dynamic of the original: Hacker mistakenly thinking he had outsmarted Sir Humphrey and made his own decision," he said.
"Far less artfully constructed and written than the 1980s series."
Website Digital Spy savaged the show, saying: "Sadly, what could have been a triumphant return for one of the best British sitcoms is undone by bad decisions and ruinous execution."
Although it said the first episode contained lines that would make one laugh, it was its only praise.
"Classic Yes, Minister's strength was its timelessness. This reboot feels like its struggling to keep up," Mayer Nissim said.
"They've recycled not only the characters and their mannerisms but also snippets of dialogues and - on occasion - the odd gag. Its creators have sadly strangled the revival at birth."
Mark Monahan of the Daily Telegraph was in the minority who were in praise of the programme, saying "there was much to enjoy", adding the stars were "terrific".
"In the realms of televisual political satire, The Thick of It undeniably feels meaner, more modern, more "now". But, although Yes, Prime Minister shows its age in its polite language, unchanged format, and laughter track, it still has teeth," he said.
The original Yes, Minister and its sequel Yes, Prime Minister series ran from 1980 to 1988 for 38 episodes, starring Paul Eddington as Hacker and Nigel Hawthorne as Sir Humphrey.