iTunes to preview Downton Abbey episodes in US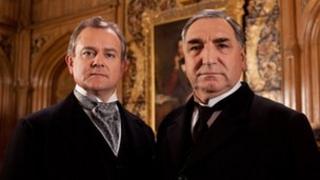 US fans of Downton Abbey, who have been waiting months for the latest series, have been offered the chance to see the final episodes before they air on TV.
The series is airing on the PBS network three months after the UK premiere.
The show's finale is scheduled for 17 February, but fans who buy a "season pass" on iTunes can download the final three episodes from 29 January.
The Apple-owned store is hoping to capitalise on fans who want to avoid plot spoilers.
Apple says this is the first time it has offered episodes ahead-of-time in this way, although previews of forthcoming series have been available in the past.
Starring Hugh Bonneville, Dan Stevens and Michelle Dockery, Downton Abbey has been hugely popular for Apple - season two was the best-selling TV series on iTunes last year.
It has also been a big hit for the US public service broadcaster, PBS.
Almost 8 million north American viewers tuned in to see Matthew and Mary wed in the first episode of series three.
However, questions were raised about whether the American network should have aired the show alongside the UK broadcaster, ITV.
Head of PBS, Paula Kerger said putting Downton up against the big hitters of the competitive US autumn TV season may not have served the show or its audience.
But she told the Television Critics Association that the network was keeping an eye on the situation and consulting with stations and viewers on the issue.
Kerger described the ratings as "a beautiful thing", but added that it would be interesting to see how the audience responds to the show as it continues its run.
Downton Abbey is beginning production on season four. However, Kerger refused to disclose any plot details, including whether Shirley MacLaine would return as a newly introduced American relative to the Crawley family.