Golden Globes experiences 17% audience boost in US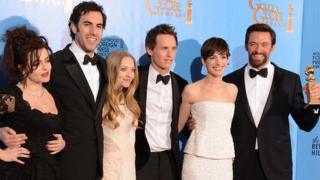 Sunday's broadcast of the Golden Globe Awards in Los Angeles secured the event's biggest US audience in six years, it has been reported.
The NBC network said the three-hour ceremony was watched by 19.7 million viewers - up 17% from last year's show.
According to Nielsen Media Research, there was also a 28% leap in the target audience aged between 18-49.
Hostage thriller Argo won best drama and best director for Ben Affleck, while musical Les Miserables picked up three.
The 70th annual awards, which are handed out by the Hollywood Foreign Press Association, were hosted by TV comedy actresses Tina Fey and Amy Poehler after three years of British comedian Ricky Gervais steering the show.
"Ricky Gervais could not be here tonight because he is technically no longer in show business," they joked, referring to Gervais's barbed, envelope-pushing monologues.
"As Ricky learned the hard way, when you run afoul of The Hollywood Foreign Press, they make you host this show two more times."
Last year's ceremony was the most-watched programme in the US on the night, with a total of 16.8 million people tuning in to see silent film The Artist dominate proceedings.
However, the audience had dropped slightly from the 17 million who watched in 2011.
While critics were split on Gervais's acerbic style of hosting, US writers were almost universal in their praise for the new hosting team - who were also nominees, for their TV shows 30 Rock and Parks and Recreation.
Thanks to the boost in audience numbers, the Globes have proved to be the biggest draw of the awards season so far.
In September, the 64th prime-time Emmy awards attracted an audience of 13.2 million while, in November, the American Music Awards saw its smallest audience in its 40-year history - just 9.6 million people.
The Golden Globes most-watched ceremony was in 2004, when 26.8 million viewers tuned in to see The Lord of the Rings: The Return of the King win four awards.
In 2008, the awards were cancelled as they clashed with the Hollywood writers strike. The winners were broadcast minus the stars and red carpet and just 6 million Americans bothered to watch.
The Academy Awards is still the ceremony to beat - the 2012 Oscars were watched by 39.3 million Americans, up 4% on 2011's 37.6 million.
This year's event is being held on 24 February, hosted by Family Guy creator Seth MacFarlane.
Presidential drama Lincoln is leading the pack with 10 nominations. Organisers will also pay a special tribute to 50 years of the James Bond film franchise.