TS Eliot Prize: Sharon Olds is first US female winner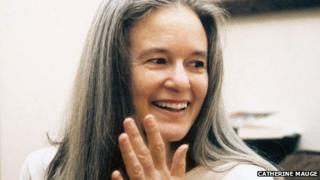 Sharon Olds has become the first female American poet to win the TS Eliot Prize - with a collection about the end of her marriage.
The judges described Stag's Leap as "a tremendous book of grace and gallantry which crowns the career of a world-class poet".
Olds picked up the £15,000 prize at a ceremony in the Courtyard at the Wallace Collection in London on Monday.
The San Francisco-born poet had been nominated twice previously.
The judges, chaired by Poet Laureate Carol Ann Duffy, chose the winner from a shortlist of 10 poets that included Simon Armitage, Julia Copus, Jorie Graham and Kathleen Jamie. Each shortlisted poet received a cheque for £1,000.
It was the first prize to be awarded since the death of Valerie Eliot, TS Eliot's widow, in November last year. The TS Eliot Estate has funded the prize since it was first awarded in 1993.
In her Guardian review of Stag's Leap, Kate Kellaway noted that Olds describes "a love for her husband that refuses to die to order".
"They are the most unusual love poems: fortified by years, by sexual passion of valedictory intensity and by vows she does not, at first, know how to unmake. They can be read as an ongoing narrative - a calendar of pain."
Born in 1942, Olds' first collection of poems Satan Says (1980) received the inaugural San Francisco Poetry Center Award.
Her other collections include Strike Sparks: Selected Poems (2004) and The Father (1992), which was shortlisted for the T S Eliot Prize. Her collection, One Secret Thing (2009) explored the themes of war, family relationships and the death of her mother, and was also shortlisted for the T S Eliot Prize.
Olds currently teaches creative writing at New York University.
Organised by the Poetry Book Society, the TS Eliot Prize received a recording-breaking 131 submissions in 2012. Joining Carol Ann Duffy on the judging panel were Michael Longley and David Morley.
Last year's winner of the Prize was John Burnside, for his collection Black Cat Bone. Previous winners include Alice Oswald, Don Paterson, Carol Ann Duffy, Seamus Heaney, Sean O'Brien and Ted Hughes.
Unspeakable
from Stag's Leap, published by Jonathan Cape
Now I come to look at love
in a new way, now that I know I'm not
standing in its light. I want to ask my
almost-no-longer husband what it's like to not
love, but he does not want to talk about it,
he wants a stillness at the end of it.
And sometimes I feel as if, already,
I am not here - to stand in his thirty-year
sight, and not in love's sight,
I feel an invisibility
like a neutron in a cloud chamber buried in a mile-long
accelerator, where what cannot
be seen is inferred by what the visible
does. After the alarm goes off,
I stroke him, my hand feels like a singer
who sings along him, as if it is
his flesh that's singing, in its full range,
tenor of the higher vertebrae,
baritone, bass, contrabass.
I want to say to him, now, What
was it like, to love me - when you looked at me,
what did you see? When he loved me, I looked
out at the world as if from inside
a profound dwelling, like a burrow, or a well, I'd gaze
up, at noon, and see Orion
shining - when I thought he loved me, when I thought
we were joined not just for breath's time,
but for the long continuance,
the hard candies of femur and stone,
the fastnesses. He shows no anger,
I show no anger but in flashes of humour
all is courtesy and horror. And after
the first minute, when I say, Is this about
her, and he says, No, it's about
you, we do not speak of her.