Crime novelist Patricia Cornwell sues finance firm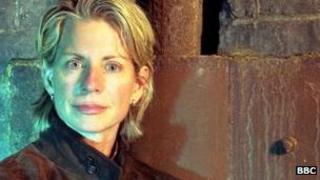 Author Patricia Cornwell has sued her former financial firm for $100m (£62m).
The writer, best known for crime novels featuring medical investigator Dr Kay Scarpetta, has accused the firm of negligence and breach of contract.
She said she fired the firm in 2009, after discovering her fortune had shrunk to under $13m (£8m)— the equivalent of one year's net income.
On trial in Boston, defence lawyers portrayed Cornwell as a big spender, who wasted money on a lavish lifestyle.
Cornwell's case has been brought against Anchin, Block and Anchin, a New York firm that handles accounts and wealth management, as well as Evan Snapper, a former principal in the firm.
She alleged that Anchin borrowed several million dollars from her fortune, including mortgages for property and a loan for the purchase of a helicopter. The firm also lost millions by moving her money into a high-risk investment portfolio without her permission, it has been alleged.
The multi-million-selling writer also claimed to have found cheques written for expenses she had not authorized, including one for a $5,000 (£3,100) gift to Evan Snapper's daughter.
When the case was first filed in 2009, Snapper pleaded guilty to violating campaign finance laws by buying $50,000 (£31,100) in tickets to an Elton John concert benefiting Hillary Clinton, using Cornwell's money. He paid a fine.
However, lawyers for Snapper and Anchin argued that their clients were not to blame for the depletion of Cornwell's fortune, and that the fees they charged were reasonable.
They suggested Cornwell and her spouse Staci Gruber, an assistant professor at Harvard Medical School, were spendthrifts who made frequent impulse purchases.
Among their expenses were a $40,000-a-month (£25,000) apartment in Trump Tower in New York, a $5m (£3.1m) private jet service, and $11 million (£6.7m) to buy properties in Concord, Massachusetts.
"Where did the money go? Ms Cornwell and Dr Gruber spent the money," said defence lawyer James Campbell.
"You have to consider the large lifestyles involved, the spending habits, impulsive buying."
During his opening statement, Mr Campbell described Cornwell as "a demanding client" who "tends to push off responsibility and assign blame when things go off track".
Cornwell, who is notoriously private, is expected to appear at the trial, which is entering its second week.
She suffers from bipolar disorder, she revealed in court papers relating to the case, and this was one of the reasons she employed an outside firm to handle her business affairs and investments.
"This case is, at its core, about trust," her lawyer, Joan Lukey, told the jury at Boston Federal Court.
"There is no amount of money that is enough to properly compensate her for what Anchin, Block and Anchin did."