Sheffield arts venues face council cuts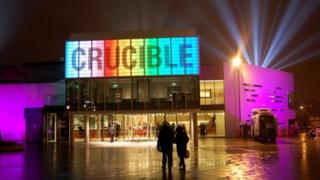 Theatres and museums in Sheffield are to have their city council funding cut by up to 20% as the local authority attempts to save a total of £50m.
Museums Sheffield, which runs the Graves art gallery and Millennium Gallery, will lose £200,000 per year under council proposals.
The Crucible and Lyceum venues, run by Sheffield Theatres, will lose £106,000.
The news comes a week after Sheffield Theatres was named regional theatre of the year by The Stage newspaper.
The organisation is currently enjoying a period of artistic acclaim, with rave reviews and a sold-out run for the Crucible's production of My Fair Lady starring Dominic West.
Sheffield Theatres said the cuts were currently proposals and that £106,000 represents 20% of its total council grant. A statement said the organisation would be "very actively involved" in a public consultation next month.
"We've been bracing ourselves for several months for this announcement; like most publicly funded organisations we knew that cuts were heading our way," it said.
"Over the last year we've done a lot of work to restructure the team and to make all kinds of savings across the theatres wherever possible."
Work with communities, young people and new talent in the city may suffer in the long term, it added.
Museums Sheffield's chief executive Kim Streets said: "Over the coming weeks we'll be working with the council to finalise plans which address the challenges ahead while continuing to safeguard the city's museums and galleries for the people of Sheffield."
The council's proposals also involve £1.6m cuts to libraries in the city, leaving 14 libraries at risk of closure, and the demolition of Don Valley stadium, where Olympic gold-medal athlete Jessica Ennis trains.
That will be on top of up to 600 job losses, a £10.5m cut to Adult social care for the elderly and vulnerable and a £1m cut to youth services for 8-13 year olds.
Council chief executive John Mothersole has previously said these are "probably the toughest time the city has faced since 1945", adding: "The city can come through it but it will be painful and it will be different."