Getty Museum to return Hades sculpture to Sicily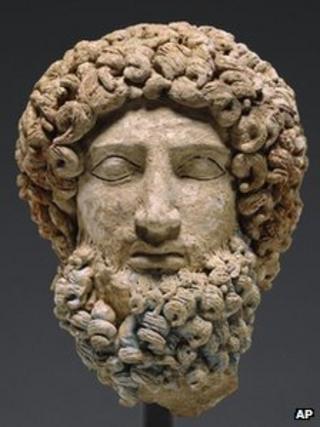 The J. Paul Getty Museum is planning to return an ancient terracotta head of the Greek god Hades to Sicily.
The museum obtained the piece, which dates back to between 400 and 300 BC, in 1985.
But new evidence suggests it was removed from Sicily's Morgantina Archaeological Park a decade earlier.
A probe was launched after museum officials saw pictures of terracotta fragments in a publication which they believe could form part of the head.
The original location of the piece was the Sicilian site of a sanctuary to the Greek goddess Demeter, whose daughter Persephone was married to Hades - the Greek god of the underworld.
Museum director Timothy Potts said: "The Getty greatly values its relationship with our Sicilian colleagues, which culminated in the 2010 Cultural Collaboration Agreement.
"This collaboration has brought significant opportunities for scholarly dialogue, joint conservation projects, and loans, most notably the Charioteer from Mozia that is currently undergoing a thorough seismic conservation assessment and remounting in our conservation studios."
The Getty has returned more than 40 pieces to Greece and Italy in recent years.
Enrico Caruso, director of the Parco Archeologico di Morgantina, said: "Close collaboration with the Getty's curators and conservators on the examination of the head has allowed us to give a name to the sanctuary shrine where several fragments of its curls of hair were found in 1978, as well as a name to the Getty's anonymous sculpture.
"It is Hades, god of the underworld, the terracotta body of which is in the course of an extensive restoration in the Archaeological Museum in Aidone."
The head will be displayed at the Getty Villa from 3 April to 19 August before heading to the Cleveland Museum of Art until January 2014 and arriving at the Palazzo Ajutamicristo in Italy's Palermo the following month.