Is assisted suicide appropriate for a sitcom?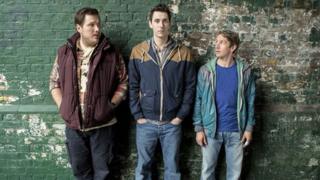 The thorny issue of assisted suicide doesn't seem to be fertile, or even appropriate, ground for a television comedy. Not so, says Bob Kushell, a writer for The Simpsons and Anger Management.
Way To Go, which debuts on BBC Three this week, stars The Inbetweeners' Blake Harrison as a cash-strapped young man who sets up an assisted suicide business with his friends.
It is an unlikely, not to mention controversial, plot for a comedy, but writer Bob Kushell insists there's "pretty much no subject" that can't be looked at humorously.
"With Way To Go, assisted suicide is portrayed with great warmth and care and sensitivity, but it's not the main focus of the show."
"Even war has been seen through a comedic lens," he adds, making specific mention of MASH, the 1970s US sitcom set against the backdrop of the Korean War.
That show opened with a theme tune called Suicide Is Painless and frequently ended on a sombre note - most notably the death of Henry Blake, who was shot down after receiving his discharge papers at the end of season three.
But Way To Go has other, more unlikely, televisual inspirations. Specifically, The Wonder Years - the Fred Savage-starring comedy about a young boy's growing pains at the tail end of the 70s.
"Ninety percent of the show you'd be laughing, and the other ten percent you'd end up inexplicably wiping the tears away. I think there is a chance - in many ways - that will be the same with Way To Go."
'Saving grace'
Kushell says the comedy mainly comes from the interaction between the three main characters - Scott, his brother Joey (Ben Heathcote) and their friend Cozzo (Marc Wootton).
Stuck in a dead end job with a "go-nowhere life", Scott is continuously "conflicted". Meanwhile, Cozzo has a baby on the way and is seeking ways to support his burgeoning family.
"Scott dreams of being a doctor, but had to drop out of college because he couldn't afford it and didn't want to rely on the government. He [wants] to do good but finds himself miserable," says Kushell.
Moved by a terminally ill neighbour's request to die, and faced with paying off his brother's gambling debts, Scott and the recently unemployed Cozzo, illegally buy an assisted suicide machine.
"They find that this job, this business they get into, is their own saving grace," Kushell explains.
Born and raised in the US, Kushell nonetheless grew up plugged in to the dark and surreal comedy of the UK.
"Me and my friends who were writing, or wanted to be writers, would watch those shows and drool over the comedy, Monty Python particularly," he recalls.
"The subject matter that they dealt with - particularly in their movies, The Life of Brian and certain segments of The Meaning of Life - was very, very dark and very controversial.
"I have always thought that they handled it with great grace and aplomb and were terrific at what they did."
Way To Go is his first programme for a British broadcaster, however.
BBC Three controller Zai Bennett has called Kushell's scripts "dark, poignant, absurd, moving and brilliant". The writer says he is inspired by life and his own daily observations.
"You write what you know, what you see around you.
"[Way To Go] started from a conversation I had with my brother-in-law about assisted suicide. We got into a vigorous argument about it and saw each other's side, but that's where the germ of the idea came from.
Challenging
"It was also greatly inspired by wanting to write something that was challenging and would touch people and make them think.
"Specifically, I wanted to write about something that had not been tackled before, as a comedy. And it is a comedy, a dark comedy and I think that the process ended up being very successful."
The subject matter is a departure for Kushell, who made his name on broad, family-friendly shows like Malcolm In the Middle and Third Rock From The Sun - where he learned his trade.
"It was like a master course in television writing," he says, "working with Bonnie and Terry Turner (That 70s Show, Saturday Night Live), who were very successful writers prior to that with movies and TV.
"Ever since then it's been spectacular and I've been able to work with fantastic people, including Bruce Helford right now on Anger Management, who also created the Drew Carey show. He is an incredible mentor."
Despite working in television for more than 20 years, Kushell claims he has "never been as impressed with the cast and crew" as he has on Way To Go.
"It was a tremendous experience. I think that we have a spectacular, seamless cast and some great character actors on this show. It feels like these three guys have known each other forever.
"It feels very authentic from the second the show starts."
And is he expecting a backlash?
"I certainly hope not. I don't shy away from controversy. If I did, I wouldn't have written a show like this.
"I knew it would stir up some controversy, but at the same time I knew that ultimately when people watch the show, it's not the only thing they will take away from it."
Way To Go airs on BBC Three on 17 January at 22:00 GMT.