The Archers to bring back original Clarrie Grundy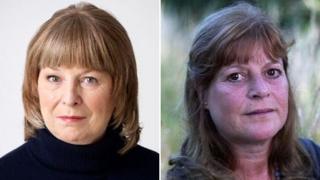 Actress Heather Bell is to return to The Archers in February to reprise the part of Clarrie Grundy, more than 30 years after creating the role.
Bell will take over from Rosalind Adams, who is stepping down from the Radio 4 drama after 25 years.
"I am really excited to be returning to Ambridge," said Bell - who will return as Clarrie on 10 February for her son Will's 30th birthday celebrations.
The actress originally joined the cast, as Clarrie Larkin, in 1979.
"Clarrie has always been a fun part to play and even though as people we are totally different, I perhaps feel closer to her now that I am a grandmother myself," she said in a statement.
"At the same time, I'm quite terrified about stepping back into Rosalind's big shoes and living up to the task of making sure I stay true to Clarrie for all those discerning Archers listeners."
Those listeners know Clarrie well as the long-suffering wife of loveable rogue Eddie and the mother of warring brothers Will and Ed.
In 2011, Clarrie played a key role in The Archers' 60th anniversary year when she was found to be responsible for an outbreak of the bacterium E.coli.