Obituary: Robert Kee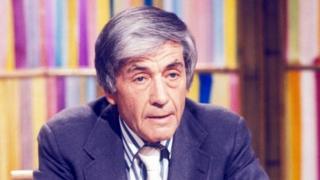 Robert Kee's critically acclaimed history of Ireland was one of the television milestones of the late 20th Century.
In 13 one hour episodes, broadcast over the winter of 1980-1981, the series traced the history of the island from Brian Boru through to the struggle for independence.
Using his skill as both historian and journalist, Kee set out to, in his own words "ungarble the past" and explain the often contradictory nature of Irish history.
Picture Post
The programme aired in both the UK and the United States. When it was broadcast on RTE in Ireland, Kee won a Jacobs Award, given for excellence in Irish TV and radio.
Robert Kee was born in Calcutta on 5 Oct 1919.
After attending Stowe School he went up to Magdalen College, Oxford where he was taught by the eminent historian A.J.P Taylor. The two became good friends.
After graduating from Oxford he joined the RAF and served in Bomber Command eventually being shot down over the Netherlands while his aircraft was on a mine laying operation.
He spent three years in a prisoner of war camp and after several attempts to escape, he finally managed to break out and get to Poland.
He recounted his experiences in his first book, A Crowd is not Company. It was first published as a work of fiction in 1947 but was later revealed to be autobiographical.
On leaving the RAF he went into journalism. His first job was with Picture Post, the magazine that is now seen as the pioneer of photojournalism.
While working there he wrote is second book, a novel called The Impossible Shore.
He later became a correspondent for both the Sunday Times and The Observer while continuing to write novels. He also translated a number of books by German authors including the satirical Gunner Asch series by Hans Hellmut Kirst
TV-am
Kee moved into television in 1958. He was a regular presenter and correspondent on the BBC's Panorama programme and later worked for both ITV and Channel 4.
His reports were always authoritative yet accessible and reflected the vast amount of research he put into all his projects. In 1976 he was awarded the BAFTA Richard Dimbleby Award.
His fascination with Irish history was reflected in his book The Green Flag, published in 1972, initially in three volumes.
He was able to transfer this fascination to the screen eight years later with his series, Ireland-A Television History, still seen by many critics as the definitive television history of the island.
It was also a series that challenged viewers on the UK mainland as Kee interviewed gunmen and bombers who had taken part in Ireland's struggle for independence.
In 1983 Kee joined with David Frost, Anna Ford, Michael Parkinson and Angela Rippon to become one of the so called "Famous Five", who launched TV-am in a blaze of publicity.
But the station was criticised for being far too high brow for a breakfast audience and the company suffered financial problems throughout its early years. After a great deal of blood letting it later recovered but lost the franchise in 1992.
Kee continued writing mainly on the Second World War and Ireland.
A former literary editor of The Spectator he presented or appeared on various book programmes including the BBC's weekly review Paperbacks.
He also joined the campaign for the release of the imprisoned Guildford Four and the Maguire Seven who had been convicted of taking part in the Guilford pub bombings in 1974.
His book, Trial & Error written about the case, played a pivotal role in persuading the authorities to reopen proceedings and the sentences being quashed.
His success as journalist and author was driven by an innate sense of curiosity and a fascination with what made people tick.