David Bowie single may reach UK chart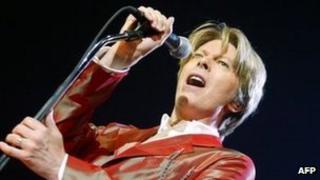 David Bowie's first new song in a decade could appear in the UK singles chart this weekend, with the Official Charts Company (OCC) trying to fix a problem calculating sales data.
Bowie surprised fans when he released Where Are We Now? on Tuesday.
The OCC cannot currently distinguish between sales of the song as a single track and fans who pre-order his new album online and get the song for free.
But they hope to resolve that and include the song in Sunday's chart.
The track went straight to the top of the UK iTunes chart after it was put on sale.
A statement from the Official Charts Company said chart rules meant Bowie's sales figures "cannot currently be counted towards the official singles charts, as the release is linked to an album pre-order promotion and it is not possible to distinguish album sales from track sales from the retail data received".
It added: "Should it become possible in the future for regular track sales to be distinguished from album pre-order incentive purchases, then these sales can be counted towards the chart."
If the song was to reach number one, it would give the musician his first solo UK chart-topper since Let's Dance in 1983.
The single, which was released to coincide with Bowie's 66th birthday, will be followed by a new album, The Next Day, in March.
Bowie has not performed live since 2006 and has rarely been seen in public since then, prompting speculation over the state of his health.