Picasso 'vandal' surrenders to authorities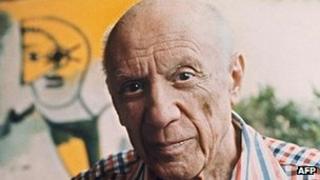 A man accused of vandalising a Picasso painting, an act caught last June on a mobile phone video, has surrendered to authorities at the US-Mexico border.
Uriel Landeros, 22, was charged with felony graffiti and criminal mischief for spray painting the artwork at the Menil Collection in Houston.
A recording of the act of vandalism was later posted on YouTube.
It has since been suggested the Houston resident and the person filming the act of vandalism were in cahoots.
The video is understood to show Mr Landeros stencilling an image of a bullfighter, a bull and the word 'conquista' - the Spanish word for conquest - on Picasso's 1932 work Woman in a Red Armchair.
Mr Landeros fled to Mexico afterwards and might have been there since June, his attorney said on Tuesday.
Emily Detoto told the Houston Chronicle he had surrendered "at the urging of his family and myself".
In November Mr Landeros gave an interview to a local TV station in which he said the vandalism was an act of social and political defiance.
The incident bore similarities with the daubing of a Mark Rothko mural in London's Tate Modern gallery last October, for which Polish national Wlodzimierz Umaniec, 26, was subsequently jailed.