Kate Winslet's husband Ned RocknRoll blocks Sun photos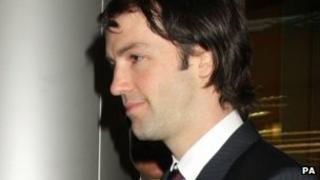 The husband of actress Kate Winslet has successfully blocked the Sun newspaper from publishing a set of "embarrassing" photos of him at a fancy-dress party.
The High Court agreed a request to stop publication of images from a private party more than two years ago.
Ned RocknRoll had argued that there was no public interest in showing the images, and that he was a "relative nobody" before his wedding last month.
Mr RocknRoll, 34, is Ms Winslet's third husband.
The party where the photos were taken had an "outrageous" theme.
His lawyers told a High Court judge that publication would be a breach of privacy and could lead to Ms Winslet's children being bullied.
Ms Winslet has a daughter from her first marriage, and a son with her second husband.
Mr Justice Briggs ruled in Mr RocknRoll's favour, and made an order preventing The Sun from publishing the pictures pending any trial.
The judge said he would give reasons for his decision at a later date.
During the hearing, the Sun said Mr RocknRoll, the 34-year-old nephew of tycoon Sir Richard Branson, had "propelled" himself into the position of "public figure".
It said his behaviour might be regarded as "unacceptable".
Part of the hearing was held in private, and few details were revealed about the photos, although the judge was told that Mr RocknRoll was wearing a costume and could be seen "partly naked".
However, the judge was told that photographs had been posted on a Facebook page belonging to a friend of Mr RocknRoll.
Mr RocknRoll and Ms Winslet said later in a joint written statement: "The photos are innocent but embarrassing and there is no reason to splash them across a newspaper.
"We recognise that in the internet age privacy is harder and harder to maintain. But we will continue to do what we can, particularly to protect Kate's children from the results of media intrusion."
Ms Winslet and Mr RocknRoll, who changed his name from Abel Smith, were married at a private ceremony in New York in December.
Oscar-winning actress Ms Winslet, 37, has two children, daughter Mia and son Joe, from her marriages to Jim Threapleton and Sam Mendes.