Channel 4 breached Ofcom code with pre watershed X-Men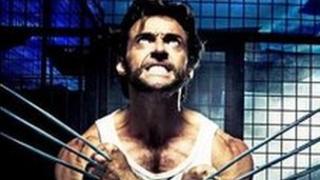 Channel 4 has been censured by Ofcom for broadcasting the X-Men film, Wolverine before the 21:00 GMT watershed.
The media watchdog highlighted six instances of violence which were "unsuitable for children".
They included Wolverine growing talons and stabbing and killing a man.
Channel 4 argued that the film has a 12A certificate and was "carefully edited" to reduce the level of violence.
It listed 27 edits made to the film, and said the fourth feature film in the X-Men series was "scheduled with care to avoid programmes specifically made for children".
"Intense" surgery
The broadcaster also pointed out that the film, starring Hugh Jackman, which was shown on Sunday 26 August at 18:55 GMT, had been aired previously pre-watershed on Channel 4, and had not attracted any complaints.
However, following up on a viewer complaint, Ofcom found various scenes of violence in breach of its guidelines.
These included an "intense" scene involving a surgical procedure in which Wolverine's head and body are drilled with holes and two violent fights between Wolverine and his brother during which stab wounds are shown.
Ofcom said while it took into account that Channel 4 had "clearly taken measures to ensure the fantasy violence was toned down", it said some edits were "insufficient to address the ongoing violent themes throughout the film".
It said that almost 12% of the audience was aged 4-15 and viewers, particularly parents, would not have expected a film with such levels of intense violence to be shown at that time on a Sunday evening.
"Aggression and menace"
Ofcom also said that viewers had not been sufficiently warned about the nature of the content when the film was introduced as: "Film fantasy action now on 4. Hugh Jackman seeks revenge as the troubled superhero Wolverine. X-Men Origins."
"In Ofcom's opinion, this announcement did not make sufficiently clear that the film would have a dark and violent theme and scenes of violence, aggression and menace throughout," said the media watchdog.
"We also noted that Channel 4 has recently shown films which have a wide family appeal such as Inkheart, Ice Age: The Meltdown, Hairspray and The Golden Compass in similar time slots (although scheduled up to an hour earlier than 18:55)."
Ofcom found Channel 4 in breach of rule 1.3 of the broadcasting code, which states children must be protected by appropriate scheduling from material that is unsuitable for them.