Durutti Column guitarist Vini Reilly 'embarrassed' by appeal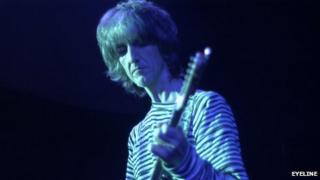 Influential guitarist Vini Reilly of the band The Durutti Column has spoken of his "embarrassment and humiliation" after fans sent £4,000 to help him pay his rent after he had three strokes.
Reilly's band were among the first signings to Tony Wilson's Factory Records in Manchester in the 1970s.
The musician's nephew had put an appeal on the band's website saying Reilly had hit "a rough patch money-wise".
Reilly thanked the fans but said he was uneasy about accepting the money.
The Durutti Column were formed in 1978 and were managed by Wilson, who would go on to sign bands including Joy Division and Happy Mondays to his then fledgling Factory label.
The band released their first album The Return of the Durutti Colum in 1980 with a sleeve made from sandpaper.
When Wilson - who also co-owned the legendary Hacienda club in Manchester - died in 2007 after suffering from cancer, Reilly described him as a "father figure".
The guitarist, who has also worked with Morrissey and whose delicate style is said to have influenced artists from Brian Eno to The Red Hot Chili Peppers, had two minor strokes in 2010.
A third stroke followed in 2011, leaving him unable to play guitar, and he faced being evicted from his house after running up a debt of £1,200 in rent while waiting to be accepted for benefits.
"One of my nephews decided that he would do something," Reilly said. "I was too ill to really care about anything anyway.
"When I found out that people were sending money to help me, I went through a mixture of absolute total embarrassment and humiliation because I've never had to borrow before.
"This was money coming from people I don't know. They just seem to like my music."
He said he did not know what would happen to the money but has asked his nephew Matt to stop accepting personal donations "because in my opinion it's an abuse of privilege".
"What about the thousands of people who are in the same situation and they don't have people supporting them?" he added.
The 59-year-old, who does not have internet access or a television at his home, said he did not understand the payment system used by his nephew and was not sure whether the donations had yet been processed.
"I'm not very easy with taking money from people, unless this money has been paid, in which case what I'll do is I'll make a special album somehow and send it to the people that have donated money because they have to have something in return," he pledged.
"I don't really know what to do to be honest. I'm in serious financial trouble simply because the benefit system took 18 months to process since being declared disabled, having no income of any kind."
Despite his unease at accepting the donations, Reilly said he was heartened by the response from so many fans.
"My feeling of just being made to feel like people care, that's worth more than any amount of money," he said.
"There's no image, there's no promotion, there's just the music, that's all there is, and they're just doing it because they're decent people and lovely people all over the place and that makes me feel very cared for."
Reilly blamed his predicament on the benefits system, saying authorities claimed to have lost three copies of the same form despite the fact that they had been signed for.
"It was a big thick form, maybe 30 pages, which was filled in with great difficulty because I can barely write, I can't hold a pen properly," he said.
The application process "was made harder and harder, with more and more rigorous tests to see if I was faking it or not", he said, adding: "I wish I was faking it."
A spokesperson for the Department for Work and Pensions was not available for comment.
Reilly's nephew Matt said he had been in "constant contact" with his uncle and that the donations had been used to pay off his rent and other outstanding bills.
'Frustrating'
"This idea came from The Durutti Column fans - amazing people that they are," Matt Reilly later wrote on the band website.
"This was not my idea, or me doing something without Vini's knowledge or consent. And Vini was hugely grateful that his fans had chosen to react in this way - he was incredibly humbled by the positive help that was being offered."
Reilly's drummer and manager Bruce Mitchell said a number of albums would be re-released this year in an attempt to generate royalties. But his medical condition means Reilly is not able to play guitar well enough to record new music or play gigs.
Asked about his guitar playing, Reilly replied: "It sounds like an eight-year-old boy having his first guitar lesson.
"It's very frustrating because I've got all this music banging around in my head. I know how I would play it. It's all complete, it's in my head, but I can't play."
This story has been updated to include later comments from Matt Reilly saying he did not make the appeal without his uncle's knowledge.